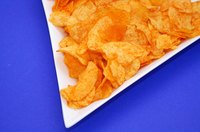 Yellow 5, also known as tartrazine, is a synthetic yellow dye commonly used in food coloring. Yellow 5 is found in many foods, including soda, cotton candy and mustard. The use of Yellow 5 is not limited to just food. It is also found in soaps, cosmetics and vitamins. Although the use of Yellow 5 has been approved by the Food and Drug Administration, it is banned in some European countries and has been linked to potential health problems.
Allergies
Allergies are an atypical response of your immune system. If you have an allergy to Yellow 5, your immune system reacts to it. The reactions can be in the form of stomach cramps, vomiting, diarrhea, rashes, hives, fatigue, feeling sick, runny nose, sneezing or watery eyes. If you think you are allergic to Yellow 5, you can either take an allergy test or avoid eating and using products that contain it. For treatment, you can avoid the product or talk to your doctor about either over-the-counter or prescription medicine.
Thyroid Tumors
Yellow 5 food coloring has been linked to thyroid tumor growths. This type of growth is due to overproduction or underproduction of thyroid hormones. These hormones are produced in the thyroid gland, which is located in your neck. This can be especially harmful because it can cause weight problems, heart palpitations, higher blood pressure, diarrhea, development of a goiter (a neck enlargement), pain or heavy periods. Talk to your doctor if you think you have a thyroid problem. If left untreated, it can lead to death. Treatment includes radiation therapy, medicine or surgery.
Asthma Trigger
Asthma is a chronic respiratory system disease. It causes the tissue in your airway leading to the lungs to become inflamed and constricted, making it hard to breath. Yellow 5 has been linked to asthma in children. Symptoms of asthma include coughing (especially at night), shortness of breath, chest tightness or wheezing. If you think you or your child has asthma, you should see a doctor immediately for treatment.
Hyperactivity
Another potential side effect of Yellow 5 food coloring is hyperactivity, also known as attention deficit disorder (ADD). Both adults and children can get ADD, but it is more prevalent in children. Children with ADD have difficulty paying attention and concentrating. They have a hard time following directions and can become bored easily. Children affected with ADD also get frustrated with tasks, including school work.
Adults with ADD also have problems. They have a hard time with time management and goal setting. Some may even have trouble keeping a steady job and a successful relationship. ADD can be treated through medications or behavioral modification therapy.