Delta Airlines allows passengers to carry on one bag and one small personal item (eg, purse, laptop computer). Delta Airlines must adhere to federal regulations governing air travel and thus may not allow passengers to carry on any items prohibited by federal regulations. Delta also has its own stricter rules and regulations prohibiting additional items from being carried on board its flights.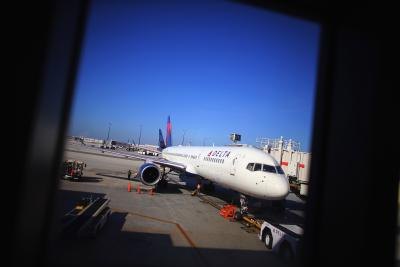 Baggage Larger than SizeCheck Unit
Carry-on luggage with dimensions larger than 22 inches by 14 inches by 9 inches is not permitted on Delta Airlines. Carry-on baggage must fit into the Delta SizeCheck® unit. A Delta SizeCheck® unit is available at each Delta ticket counter. Baggage that is too large to be carried on board must be checked in either at the Delta ticket counter or Delta curbside service.
Strollers
Strollers may not be carried on board Delta Airlines flights, although they may be brought all the way to the boarding gate. Any strollers brought to the boarding gate must be checked at the gate. If checked at the gate, the stroller will be placed on the aircraft by a Delta agent; after the flight, it will be taken off the aircraft before deplaning and will be waiting for you at the gate of the destination airport. This allows you to use the stroller throughout the airport.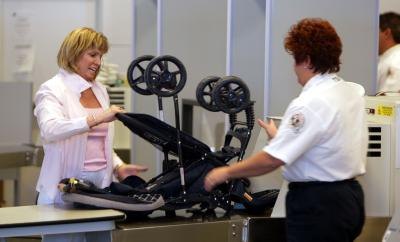 Exotic Animals
Exotic animals such as sugar gliders, monkeys, pot-bellied pigs, frogs and spiders may not be carried on board. Rabbits, rats, mice and reptiles (including snakes, lizards and turtle) may also not be carried on board Delta Airlines flights. The only animals expressly permitted as carry ons aboard Delta Airlines are cats, dogs and household birds. Pets younger than 8 weeks of age may not be carried on board, and you may have no more than one kennel.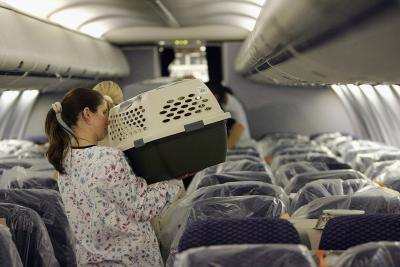 Wet Ice
If you have items that must be kept cold, you will need to pack them with less than 5.5 pounds of dry ice or keep them cold using another method. Wet ice (ie, frozen water) may not be carried on board Delta Airlines flights.
Any Items Prohibited by Federal Law
Federal law mandates that certain items, such as weapons and sports equipment, may not be carried on board any aircraft. In addition, Delta Airlines has its own rules and regulations governing which items are not permitted aboard its flights. If you need to carry on an item that is not permitted by Delta Airlines, you can call Delta at 888-750-3284 to find out whether the item is prohibited from being carried on board by federal law. If it is not prohibited by federal law, you can contact other airlines or visit their websites to try to find one that will allow you to carry on the item.