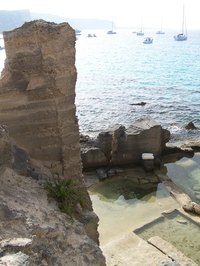 Venice lies in the heart of the central-Florida boating community. Located on the gulf side, Venice offers ocean views and urban skylines. There are also many opportunities for boaters to cruise local rivers and the open ocean, as well as several top-notch marinas. Smaller marinas and marina shops in Venice provide a place for local boaters to get supplies and mechanical aide. Boaters can also access the waters through marinas in nearby Sarasota and Englewood.
Crow's Nest Marina & Restaurant
The Crow's Nest Marina & Restaurant offers many amenities to both traveling boaters and local slip holders. There's also a ship's store for all the necessary gear and accessories as well as boat rentals that make it possible for tourists to get a feel for the local waters. The marina itself boasts well-kept slips that have electricity and water, as well as bathhouses for slip occupants. Gas and diesel fuel as well as pumpout for boats are available at the docks seven days a week. There are even courtesy bikes for transient boaters who need to get to the store or want to cruise around town after a day's boating. Of course, boaters can grab a bite to eat at the restaurant and relax at the tavern at the end of the day.
Crow's Nest Marina & Restaurant 1968 Tarpon Center Dr. Venice, FL 34285 941-484-7661 crowsnest-venice.com
The Venice Yacht Club
For a real resort feel, the Venice Yacht Club offers a gracious clubhouse with a ship store and two large dining rooms with ocean views. The marina offers 47 full-service docks for resident boaters, and 300 feet of transient dock space for visitors. The Venice inlet protects all locations from weather on the open water. Members receive discounts on fuel and dockhands to help with chores onshore.
The Venice Yacht Club 1330 Tarpon Center Dr. Venice, FL 34285 (Office) 941-488-7708 (Dockmaster) 941-483-3625 veniceyachtclub.com
Dona Bay Marina
Dona Bay Marina is a small, no frills service marina with storage and ship store. The marina stores boats for boaters who want to keep their vessels out of the salt water when not in use but can't keep it at home. Boaters are free to take boats in and out of the marina when they wish.
Dona Bay Marina 504 Tamiami Tr S Venice, FL 34285 941-483-3713