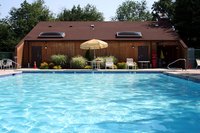 Omaha has many attractions for vacationing families. Omaha's Henry Doorly Zoo boasts an indoor jungle, aquarium and desert dome, that can entertain children of all ages. The area is also close to many outdoor activities, such as hiking at Eugene T. Mahoney State Park just outside of Omaha or child-friendly museums such as the Western Heritage Museum in downtown Omaha. For traveling families, the area features many hotels that offer amenities geared toward children.
Crowne Plaza
The Crowne Plaza Omaha offers a variety of entertainment options for families. For families with children, the hotel offers a large, indoor pool in an atrium area. In addition to a TV with cable, each room offers free wireless Internet access, a CD player. In-room video games are also available. The hotel is located in midtown Omaha, near Interstate 80 and provides easy access to the Westroads Shopping Center, with plenty of kid-friendly restaurants and activities nearby.
Crowne Plaza 655 N. 108th Ave. Omaha, NE 68154 (402) 496-0850 crowneplaza.com
Holiday Inn-Omaha Airport
The Holiday Inn-Omaha Airport has plenty of amenities for families visiting the city. The hotel, which opened in 2009 features a 10,000 square foot water park that includes a 160-gallon dump bucket, a pool with basketball goal and a three-story slide. Access to the water park is included in the price of a booking, and is open only to those staying in the hotel.
The Holiday Inn-Omaha Airport is located near downtown Omaha, and sits just a short drive from the Durham Western Heritage Museum and Omaha Children's Museum. For parents, the hotel includes a fitness room and the Union Sports Bar and Grill, which serves breakfast, lunch and dinner.
Holiday Inn-Omaha Airport 1420 Cuming St.
Omaha, NE 68102 (402) 341-0124 holidayinn.com
Comfort Inn at the Zoo
Located near the Henry Doorly Zoo, the Comfort Inn at the Zoo features a large, heated indoor pool for children to play in after a long day at the zoo. In addition, the hotel also boasts an arcade area. Rooms offer free high-speed Internet and suites come with free bags of popcorn. Comfort Inn at the Zoo is also located near the Durham Western Heritage Museum, Johnny Rosenblatt Stadium and Heartland of America Park. The hotel also offers a complimentary breakfast each morning.
Comfort Inn at the Zoo 2920 S. 13th Court Omaha, NE, 68108 (402) 342-8000 comfortinn.com