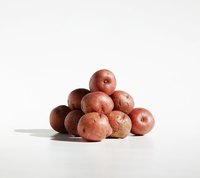 Potatoes have been a staple in diets around the world for hundreds of years because of their abundance, year-round availability, low cost and high fiber content. No wonder the average person consumes nearly 73 pounds of potatoes a year. Even though there are more than 5,000 varieties of potatoes in the world, red potatoes are one of the most common varieties, boasting impressive health benefits while adding a splash of color to your dinner plate.
High in Fiber
With the skin, one medium red potato (5.3 oz) contains 3g of dietary fiber per serving. That's the same amount of fiber found in many whole grain breads, pastas, and cereals. In addition to being beneficial to the digestive system, offering protection against colon cancer, and lowering cholesterol levels, fiber also gives potatoes their substance, helping you to feel fuller for longer.
Nutrient Rich
One medium red potato contains 27mg of vitamin C and 620mg of potassium. That's 45 percent of the Daily Recommended Value of Vitamin C and 37 percent more potassium than bananas, spinach, or broccoli. Red potatoes are also a good source of Vitamin B6, low in sodium, and cholesterol-free. Nutritional value may vary slightly with cooking.
High in Antioxidants
Research shows that antioxidants help prevent and repair cell damage that has been linked to cancer and heart disease. While people typically think of fruits and berries as antioxidant rich, potatoes contain some of the highest anti-oxidant levels found in vegetables and rank in the top 20 most antioxidant-rich foods.
Low in Calories and Fat
With an abundance of vitamins and minerals, many people are surprised to learn that one medium potato contains only 110 calories and is 99 percent fat free! That makes red potatoes are a great choice for those looking for a filling vegetable that is nutritious and tasty.
Nutritious Through and Through
It's a common misconception that the majority of any potato's fiber and nutrients are found in the skin when in fact the nutrients are evenly distributed between the skin and the flesh, making them nutritious through and through.
Versatile
Red potatoes are firm and waxy, making them perfect for roasting and boiling because they hold their shape well. Red potatoes also have thin skin, so they don't need to be peeled, saving you time in the kitchen. Common recipes using red potatoes include salads, casseroles and soups. Red potatoes are not good for mashing or deep frying because they tend to become sticky.