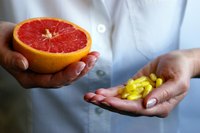 Sodium ascorbate is a form of Vitamin C. It offers many health benefits, including boosting the immune system and energy levels, as well as being a more bio-available form of the vitamin than other forms such as ascorbic acid. Although its benefits are many, sodium ascorbate carries a number of potential risks that consumers must take into account before deciding to use the compound as a health supplement.
Skin Effects
Sodium ascorbate taken at high doses can have adverse effects on the skin. These side effects may range from small skin irritations such as rashes, itching, and hives to swelling in the face, lips, or tongue. If the latter condition occurs, consumption should stop immediately, and a trip to the emergency room is in order, as it may be a symptom of digitalis, a potentially fatal skin condition.
Pain and Respiratory Problems
In injectable form, too much sodium ascorbate may cause pain throughout the body. This is most often displayed in chest pain or burning sensations, bone pain, and difficulty breathing. Sodium ascorbate in an injection has a much more immediate effect on the body than when consumed orally, and the supplement should not be overused.
Damage to Internal Organs
According to sciencelab.com, prolonged exposure to sodium ascorbate at high levels may cause problems with internal organs. The compound may develop toxic interactions with the kidneys, upper respiratory tract (as mentioned above), and the gastrointestinal tract. This claim is backed up by a 1995 study published by the Oxford University Press. This study, conducted by doctors at the University of Nebraska's medical center, found that prolonged exposure to sodium ascorbate caused significant damage to the urinary bladder of male rats.