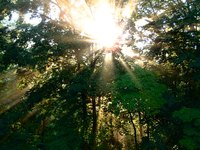 Treehouse lodging is plentiful in Texas and is popular with birders in particular, as well as honeymooners and families. Whether you prefer your arboreal retreat rustic or elegant, with a view of a tranquil lake, the sound of a rushing river or just the peace and quiet of the woods, there is something for every budget and taste.
Lynch Ranch Tree House
Run by an avid birder who is a member of the Audubon Society, Tree House Bed & Bird at Lynch Ranch is not only a comfortable place to stay, but there are knowledgeable guides to help you identify the many species of birds in the area. 22 miles northwest of San Antonio, this nature preserve offers naturalists and avid birdwatchers a number of day trips free of charge, although reservations are required at least three days in advance. There are two treehouses available, although construction was begun on a third was begun in 2010. The Treehouse Suite has one bedroom with two queen beds, a sitting room, an extra trundle bed and a bath. The Red Door Retreat sleeps only two in twin beds. Both places have TV and Wi-Fi, a tiny kitchen, and a phone. Either bring your own sheets or rent them for $5.00, but let them know in advance which you prefer to do. Children and pets are not allowed. Rates began at $65 as of 2010.
Tree House Bed & Bird at Lynch Ranch 355 Uvalde Co. Road. 351A PO Box 40 Rio Frio, Texas, 78879 (830) 232-6666 www.treehousebedandbird.com

Canyon Lake Tree House
Specializing in honeymoon packages, Canyon Lake Tree House is on the south rim of the Canyon Lake in the hills north of San Antonio. The house has a 1960s atmosphere, with modern furniture, a turquoise kitchen sink and counter, handmade teak cabinets and a giant white rock fireplace right in the middle. From the encircling deck, the view of the lake is gorgeous, and it is just a short walk (after you climb down) to the public dock where you may launch your boat or jet ski. No pets are allowed, but there are twin beds for accompanying children. The 2010 summer price was $200 per night, with an extra $75 for the honeymoon package, which includes champagne, roses and chocolates.
Canyon Lake Tree House 978 Dusty Saddle Canyon Lake, TX 78133 (830) 964-2504 www.canyonlaketexastreehouse1.com
The Smithville Tree House
The Tree House in Smithville, Texas, is near the shore of the Colorado River and is one of the largest in Texas. It comfortably sleeps 10, has a nice fireplace and is completely furnished, including linens, BBQ grill, all kitchen utensils, satellite TV and stereo system. Great for families, rates started at $135 per night as of 2010.
The Tree House 752 Hwy 2571 Bastrop County Smithville, Texas 78957 www.touringtexas.com/treehouse