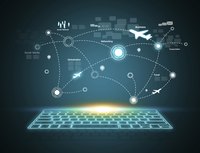 Corporate portals are websites that direct web traffic to the primary business website. Each page in a corporate portal site focuses on distinct parts of the primary business.The objective of corporate portal sites is to present a more consistent information management structure and a smoother user experience for both staff and customers, but these portal sites can also deliver other substantial benefits.
Integrated Approach
The structure of a corporate portal encourages an integrated approach to its development. Portal sites often share the same logos, graphics, navigation menus and presentation style to maintain a consistent appearance. Portal pages also typically share the same data sources, such as corporate databases on personnel, products and prices. This integrated approach reduces the workload on staffers who develop and maintain the sites. This approach also presents visitors with a consistent visual style and reliable information.
Reduced Cost of Information
The cost of accessing information can be measured either in terms of money or in time. A corporate portal allows companies to reduce the cost of information in both cases. Companies that print out paper forms and reports can use the portal site to save money on paper, binding and printing costs. Firms that favor the web-based approach can use portal sites to allow department heads to make their own changes to their own individual sections, saving time and effort for the IT staff to tackle bigger issues.
Improved Collaboration
For companies with several branch offices, the corporate portal allows for more opportunities at collaboration. The ease of communication with the portal site allows workers in multiple offices and various departments to share ideas, develop plans and assign tasks. Increased collaboration allows workers to overcome distance and departmental division and for more continuous effort from all participants to reach the company's objectives.
Simplified Integration
Since portal sites have a consistent structure, the integration of a portal into a typical business website is often easier than developing a custom solution. Most off-the-shelf portal software packages can be integrated into existing e-mail and database programs. Portal sites also normally use "single sign-on" log-in capabilities, which means users no longer have to remember a collection of passwords to access different areas of the system. Portals can also include mini-portals, or "portlets," which can provide additional functionality to the portal with minimal additional development time.