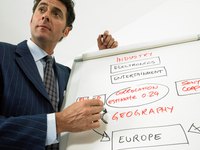 Market differentiation is simply defined as what a company does to make itself appear different from its competitors. This can be accomplished through differentiation in the four P's of marketing: product, place, price and promotion. Companies must strive to show how their product or service is better than that of the competitor. By maintaining uniqueness in the market and a differentiation that the consumer can define, the company can enjoy success.
Product
The company's product or service that it provides is the ultimate way to set itself apart from the competition. By inventing an entirely new line of products or by improving on current products or those of the competition, the company can differentiate itself in the market. The product or service can be differentiated based on its attributes or benefits.
Place
Place refers to how the product or service is distributed to the marketplace. In order to differentiate itself, the company would need to distribute its product in a new way. For example, this could include delivering information via the Internet as an eBook versus as a paperback book available only in brick and mortar bookstores. Place should always focus on delivery to the customer in a convenient manner that minimizes costs for both the company and the consumer.
Price
One of the most common ways to differentiate the company's products or services in the market is based on price. This is a large part of Wal-Mart's strategy as it strives to be the low-cost leader. The company cuts prices to the bare minimum and survives on large volumes of merchandise moved. In the reverse, some companies will focus on price differentiation by being the most expensive product. This strategy can create the perception of value through exclusivity. If diamonds were inexpensive, their inherent value and perception of uniqueness would be lost.
Promotion
Companies can also differentiate themselves in the marketplace through promotion and advertising. By tackling a promotional strategy that is different than the competitors, it can make the company stand out among the competition. New promotional avenues may garner free publicity from the buzz they create, which will further promote the company and its brands.