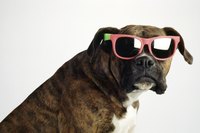 Service dogs aside, Cunard's Queen Mary 2, which makes about 20 trans-Atlantic sailings a year between New York City and Southampton, U.K., is the only long-distance cruise liner that allows pets to travel with their owners.
The Accommodations
The Queen Mary 2's fully equipped kennel has 12 spaces. A full-time kennel master feeds, walks and cleans up after guests. Cat owners are required to reserve two spaces, and for dogs, some size restrictions apply -- "giant" breeds such as mastiffs and great Danes can't be accommodated. The deck adjoining the kennel serves as an exercise area.
The Amenities
All kennel guests get their own beds, food and blankets and for cats, scratching posts. Gift packs presented upon boarding contain coats bearing the Queen Mary 2 emblem, which animals wear when a ship's photographer takes souvenir pictures of them with their owners. All animals are assigned an appropriately sized life jacket and a staff member to look after them in case of emergency.
Times for Togetherness
Animals aren't allowed in the rest of the ship but owners are permitted four visiting sessions a day to play with them on the deck and other areas reserved for their use.
Official Formalities
The U.K. has strict regulations regarding the import of animals, so every dog and cat on board must have all paperwork specified in the U.K. government's Pet Passport Travel Scheme. Requirements include proof of a microchip, rabies vaccination documents and a recent tapeworm treatment.