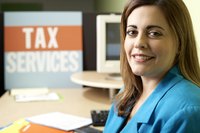 Taxpayers are always looking for ways to lessen the burden associated with filing income taxes. One of the best ways to help take the sting out of paying taxes is to take advantage of every possible write-off available. Deductions can be found in your home, your work and even your personal life as of 2010.
Family and Personal Deductions
You can deduct items related to your family and personal situation on your tax return. If you have children, you may be able to deduct childcare expenses as well as claiming the child as a tax exemption. If you incurred any unreimbursed medical expenses, you can deduct the amount that exceeds 7.5 percent of your adjusted gross income. You can also deduct any donations you made to charities, such as cash or the value of clothing or automobiles. If you are divorced and pay alimony to your ex-spouse, the alimony amount can be written off.
Home Deductions
For some people, owning a home can provide a major source of tax deductions. If you have a mortgage, you can deduct interest that you paid during the tax year, as well as any real estate taxes. Homeowners are required to carry mortgage insurance, and the premiums are deductible. You can also deduct points, which are charges made by the lender when you applied for your mortgage loan. If you have an office in your home, you may be able to deduct it if it is a separate area used exclusively for work purposes.
Employee Expense Deductions
Some employees may find themselves in a situation where they incur work-related expenses that are not reimbursed by an employer. For example, the cost of a job-specific uniform is deductible, as is the cost of unreimbursed business travel or the use of your personal vehicle for work travel. If you subscribe to any professional or trade journals, the cost of the subscription can be written off. If you purchase malpractice or errors and omissions insurance, the premiums can be written off. Work-related education expenses are deductible if it is for the purpose of improving skills needed for your current job.