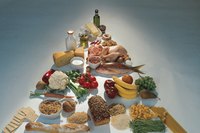 Digestive discomfort that comes in the form of bloating and flatulence (or gas passing), is often caused by gas-producing foods. The reaction is usually caused by undigested foods or complex carbohydrates.
Cruciferous Vegetables
Cruciferous vegetables (from the Crucifarae family) include cauliflower, broccoli, cabbage, turnips and radishes. These vegetables often are high in sulfur and complex carbohydrates that require specific enzymes and bacteria for breakdown and digestion. As a result, methane can be a byproduct in the large intestine.
Lactose
Lactose sugar, often present in milk and dairy products, is a gas-causing agent for lactose intolerant individuals. This is primarily due to a lack of the enzyme lactase, which digests lactose. However, gradually introducing lactose into a diet can help activate lactase. Otherwise, over-the-counter lactase enzymes are available for those who suffer from lactose intolerance.
Sugars/Complex Carbohydrates
Complex carbohydrates--foods high in insoluble fiber, such as beans and fruits (which contain fructose sugar)--are often gas culprits as well. Bacteria and enzymes do not completely digest these foods, depending on an individual's digestive system, and produce gas as a result.