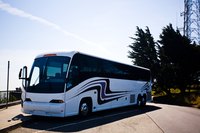 Bus tours are one of the most economical ways to explore the East Coast. They also allow you to see the beautiful rural areas of places such as New England and the Carolinas that you might miss if you were flying or driving your own car from destination to destination. Several bus lines and tour companies offer guided tours of the East Coast in lengths ranging from day trips to week-long adventures.
Gray Line
One of the largest sightseeing bus lines in the world, Gray Line offers tours to more than 150 destinations in six continents. This includes several bus tours throughout the East Coast, including tours of Niagara Falls and nearby Buffalo and of larger metropolitan areas such as New York, Washington D.C. and Boston. The company also offers a range of day-long tours of spots along the coastline of the Southeastern United States, including trips to Fort Sumter (where the Civil War began) and historical sections of Charleston, South Carolina and Savannah, Georgia.
Gray Line Worldwide 1835 Gaylord St. Denver, CO 80206 (303) 394-6920 http://www.grayline.com
City Sights NY
City Sights NY provides you with a unique way to experience the incredible sights of the Big Apple. The company has a fleet of 60 double-decker buses with which it conduct tours of major attractions in New York, ranging from a few hours to day trips. Bus tours are available for many of the most popular tourist attractions in New York, including the Empire State Building, the Statue of Liberty and Central Park. City Sights NY also packages bus tours with other forms of transportation, including helicopter tours of Manhattan and ferryboat tours around the island. Tours also start from New York and go to other areas of the Eastern Seaboard, including Boston, Philadelphia and the Amish country in Pennsylvania.
City Sights NY 1430 Broadway, Suite 507 New York, NY 10018 (212) 812-2700 http://www.citysightsny.com
New England Tours
New England Tours offers seasonally-themed tours that allow you to get a full sense of life in a particular area. Among the tours offered in 2010 is the Islands of New England tour, which allows you to spend eight days exploring Boston and the smaller islands off the New England coast--including Newport, Rhode Island, Martha's Vineyard, Nantucket and Cape Cod. Another tour offered in 2010 is the Taste of New England, which provides a culinary tour of the many food delights in the area and is designed with the gourmand in mind. Yet another tour offered is the New England Holiday, which takes you to see the wonderful foliage of England in the fall.
New England Tours 63 Thom Avenue
Bourne, MA 02532 (508) 759-7796 http://www.newenglandtours.com