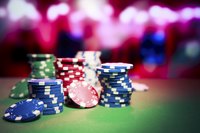 Wisconsin is home to 11 Native American tribes, more than any other state east of the Mississippi River. These tribes offer residents and visitors gaming at 19 casinos, with many of the casinos including dining and entertainment. Because of the popularity of casino trips, bus companies around Wisconsin have created tours especially for this purpose. Whether you want to spend a day at a casino or join in on a weekend tour, there's a bus trip for you. If you're feeling lucky, hop on one of these bus tours for a chance to win great prizes--and a guaranteed good time.
Three Casinos in One
Nichols Five Star Charters offers a variety of overnight bus trips to casinos in the Wisconsin Dells. Their most popular trip, the "3 Casinos Tour," visits Ho Chunk Casino in Nekoosa, Ho Chunk Majestic Pines Casino in Black River Falls and Ho Chunk Wisconsin Dells. The bus tour picks up participants in Appleton, Oshkosh, Fond du Lac, Waupun and Beaver Dam. Nichols Five Star Charters also offers a day trip to Ho Chunk Wisconsin Dells on Thursdays and overnight trips to The Island Casino throughout the month.
The Best of Wisconsin
For bus trips to casinos around Wisconsin, Gold Star Tours has many options. Like most tour companies, they offer a bus tour to the Wisconsin Dells, but they also provide tours to Menominee Casino in Keshena, Mohican North Star Casino in Bowler and Potawatomi Carter Casino in Carter. For all trips, guests purchase a bus ticket, but receive a casino rebate up to three times the cost of the ticket. Pick up locations and dates vary for each tour, so reserve a spot in advance by calling or going online.
Tailored Tours
Double D Tours, LLC is a family-owned business in Madison, Wisconsin, known for their Casino Fun Trips that take you around Wisconsin and the Midwest. Bus tours are held weekly and prices vary depending on which casino you choose to visit. The cost of your ticket to Ho Chunk Casino includes transportation and a casino credit. A visit to Oneida Casino also includes transportation and a casino credit. Booking is flexible and groups can book a coach for any type of excursion, from day trips to the Wisconsin Dells, to overnight travel in Chicago.
Good for Groups
Badger Coaches High Rollers Casino Bus Trips works with individuals and groups like senior centers, VFWs, bowling leagues and American Legions to organize casino bus tours across Wisconsin. The casinos they visit include Ho Chunk, Oneida, Jumer's and Horseshoe, but they are happy to accommodate requests. When you sign up for a tour with Badger Coaches, you receive the Player's Package which is a special casino discount, as well as discounted meals.