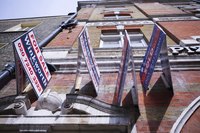 Small-business owners can choose to invest in real estate ventures as sole proprietors or as part of a partnership. However, these investors can also expose themselves to higher taxes and potential legal liability problems. A limited liability company, or LLC, offers a legal structure that real estate investors can use to protect themselves. Many real estate holding companies use the LLC structure to reduce their tax exposure and enhance their profits.
Liability Protection
The main reason to use an LLC for real estate investment is that it limits the amount of personal liability a real estate investor is exposed to in a lawsuit. If the investor held the property in his own name, that investor would expose his personal assets to potential judgments in a liability lawsuit. If the property is held by an LLC, the lawsuit would go after the assets of the LLC, not of the individual members.
Tax Advantages
Members of an LLC can also take advantage of the benefits of the pass-through taxation rule. Companies organized as C corporations or S corporations that hold real estate are taxed at both the corporate and individual levels on earnings from real estate. For LLC real estate holding companies, the individual members still pay taxes on their earnings from real estate revenue; however, the LLC itself is not taxed directly on the revenue the properties earn. Instead, the revenue passes through to the individual members.
Creditor Protection
The LLC structure also provides protection from creditors. If a creditor pursues a member of the LLC, that creditor cannot acquire the assets of the LLC as part of any payment arrangement. The creditor also cannot acquire the debtor member's interest in the LLC in lieu of payment. These protections allow the LLC to maintain ownership of its real estate holdings, even if one of its members is facing problems with creditors. Shareholders in C or S corporations do not have these protections, as creditors can acquire their shares in lieu of payment.
Flexible Structure
An LLC also offers a flexible structure that can meet the needs of participating members. Unlike corporations, which have strict rules about who can participate, LLC members can be corporations, trusts, partnerships or individuals without affecting the tax status of the LLC. This rule allows companies or investors who would not typically deal in real estate holdings to participate in the market. LLCs can also distribute their revenues according to their articles of organization and operating agreements, rather than on a prorated basis.