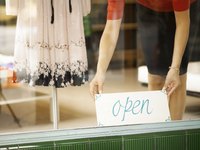 Certain traits are common to those who start their own businesses. Obviously, you must be willing to work very hard, because starting a small business is rarely easy. However, successful small business owners also understand what is possible, will take calculated risks and create solutions where weaknesses might exist. All of these traits relate to a self-awareness of the business and a vision for where it might go.
Ability to Take Risks
Rarely, if ever, will a business owner have complete information in order to make a decision. Good small business owners, therefore, have an aptitude for making calculated risks based on the limited information that is available. These decisions can and often do have long-term impacts on the success of the business.
Understand Weaknesses
Successful small business owners know that they have limitations. These may include weaknesses in skill sets or expertise or might include broader issues like limitations in access to financing. The common key to these weaknesses is the value of outside expert help; a successful entrepreneur will seek help where needed.
Learn from Mistakes
All entrepreneurs make mistakes. Good entrepreneurs learn from their mistakes. Small businesses that repeat or do not understand previous mistakes will not learn how to avoid similar problems in the future. This may seem obvious, but many entrepreneurs repeat the same mistakes in one small business after another.