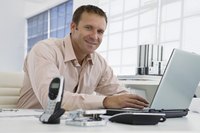 Ecommerce is continuously growing. However, many states are losing money on sales tax because online sellers are not collecting sales tax when appropriate. Some people are under the misconception that if they sell online only, they aren't required to collect sales tax. Yet, this isn't the case, so online sellers must be aware of the sales tax rules.
Rules
You can easily determine whether you need to collect sales tax. Collecting sales tax is determined by whether you have a physical presence in the customer's state. If your online business is located in the customer's state, you should be collecting sales tax. Also, if you have a physical store or warehouse in the customer's state, you should also be collecting sales tax. Check with your local state for specific rules on having a physical presence, because rules do vary from state to state.
Products
The type of inventory that you are selling has in impact on whether sales tax is collectible. Each state has different sales tax laws on what is and what isn't taxable. For example, in Florida food and prescriptions are not taxable. In California downloadable software is not considered taxable. Check with your state to determine what products are taxable for your business.
Collecting Sales Tax
Before you collect sales tax, you must register with the state. Collecting sales tax without having a license is a criminal offense and you can be prosecuted. To determine the amount of sales tax you need to collect, check with your state. Each state imposes different sales tax percentages on purchases.
Paying Sales Tax
Once you are a registered vendor in your state, you will receive a sales tax return with instructions on how to submit your sales tax. You will need to remit the total sales tax you have collected with your sales tax return. If you are a small business, you will probably only have to file once a year (your state will tell you how often you need to file). However, if you have a large business, you may be required to file quarterly or monthly.