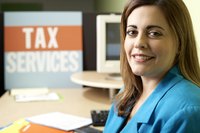 HSAs, or health savings accounts, were introduced in 2004 as a way to help people save for future medical costs by putting money into tax-advantaged accounts. Contributions can be made to the account with pretax dollars, the contributions grow tax-free, and, as long as you spend the money on qualified health expenses, the money can be withdrawn tax-free. Health savings accounts are similar to flexible spending accounts, but the money can carry over from year to year rather than being lost if it is not spent.
High-Deductible Insurance Policy
You must have a high-deductible insurance policy to open an HSA. A high-deductible insurance policy can apply to either yourself or you and your family and must have a deductible that meets or exceeds the annual minimum. For 2010, the minimum deductible is $1,200 for individuals and $2,400 for family plans. In addition, you must not also be covered by non-qualifying medical plan, even if it is through your employer or parent.
Age Restrictions
You cannot open an HSA if you are over 65 years old or otherwise enrolled in Medicare. You are not required to close your HSA when you turn 65, but you cannot make any additional contributions. You also cannot have an HSA if someone claims you as a dependent on their tax return.
Opening an Account
You can open an HSA at a number of financial institutions including many banks, insurance companies and credit unions. You may be eligible to start a plan through your employer, but you can also open a plan on your own at a qualifying institution.
Using the Money
The money in the HSA can be withdrawn penalty-free and tax-free if you use it for qualified medical expenses. The medical expenses can be any bills that qualify under the federal tax code, including preventative care, routine checkups, treatments and surgery. These expenses can be for medical, dental and vision care. If you take the money out and do not use it for medical expenses, you must pay a 10 percent penalty on top of any income taxes you would owe on the money. However, if you are over 65 years old, you can take withdrawals for any reason penalty-free but you must include the money on your income tax filling.