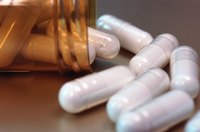 Cipro, or ciprofloxacin, is a synthetic, broad-spectrum antibiotic used to treat bacterial infections such as bladder or skin infections. It is also effective against several microorganisms including anthrax. Side effects range from nausea to tearing of the tendons.
Abdominal Discomfort
Abdominal discomfort is the most common side effect of Cipro. Nausea, vomiting, diarrhea, and abdominal pain are the most frequently reported reactions to this drug. Talk to your doctor if these become severe.
Effects on the Nervous System
People taking Cipro often report experiencing headache, fatigue, and dizziness. These symptoms are not usually severe. However, if you notice changes in your vision, restlessness, hallucinations, confusion, anxiety, or ringing in your ears, see your doctor immediately. Tremors and convulsions also warrant immediate attention.
Skin Conditions
Certain skin conditions that may occur while taking Cipro include rash and hypersensitivity to sunlight. Use sunscreen or avoid sunlight if you are taking Cipro. Hives or rash may signal an allergic reaction. Call your doctor if a rash or hives develop, as allergic reactions can be severe or even fatal.
Tendinitis
Tendinitis--and even rupture of the tendons--has been associated with Cipro. Some physicians recommend avoiding strenuous exercise while taking Cipro, because a ruptured tendon can cause permanent disability.