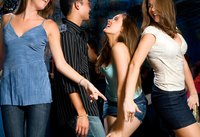 In 2009, a proposal was made by Minneapolis City Councilwoman Lisa Goodman to ban Minneapolis bars and clubs from allowing those under the age of 21 from being allowed inside of the bars for fear of underage drinking, according to the Minneapolis' Twin Cities "Daily Planet" newspaper. While many of the clubs allotted wrist bands and other ways of determining who was allowed to drink and who wasn't, underage club goers still found ways to break the rules. The ban has not come to fruition, so there are still clubs that do allow underage persons to have a fun nightlife.
Myth
Every Tuesday night at Myth is "Club Nitro," which is for anyone ages 16 and older. The club is modern and has a trendy Hollywood nightclub feel to it. Non-alcoholic drinks are available. The lounge area is perfect for hanging out and drinking, while the dance floor area is where you can get your groove on. The club closes at midnight for the underage day.
Myth 3090 Southlawn Dr. Maplewood, MN 55109 (651) 779-MYTH mythlive.com
Sneaky Pete's
This club is not just an underage club, it's club for anyone over 18 as well. The club serves alcohol and non-alcoholic drinks, a full menu and games, along with a dance floor and dance music from the 1970s to today playing. The club is open every day of the year until 2 a.m. and serves its entire menu until 1 a.m.
Sneaky Pete's 14 N 5th St Minneapolis, MN 55403 (612) 333-8820 ultimatefunbar.com
Bedlam Theatre
This theater is not only that, but also a bar and club. The atmosphere is friendly and social, welcoming theater goers and bar hoppers alike. Anyone 18 and older can be a part of the fun, as the theater serves a full menu and non-alcoholic drinks. It also has different events, enticing a variety of people from different walks of life. Music is just one part of this club's scene. It has game shows, cabaret, live music performances and theatrical performances.
Bedlam Theatre 1501 S. 6th Street Minneapolis, MN 55454 (612) 341-1038 bedlamtheatre.org
Club 3 Degrees
This Christian nightclub offers live concerts and dancing for all ages. The club may be held inside of the church but it looks like a normal, traditional club when the music is up and the night has started. The club offers non-alcoholic drinks.
Club 3 Degrees 113 North 5th Street Minneapolis, MN 55403 (612) 781-8488 3degreesministries.com