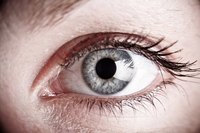 Chronic dry eye, or dry eye syndrome, occurs when the production of tears stops or deteriorates significantly. According to Mayo Clinic doctors, a "stable tear film" normally covers the eyes, allowing for competent and comfortable vision. When a decrease in fluids breaks down this film mild irritation often occurs. Occasionally, severe discomfort is present.
Symptoms
Mayo Clinic staff note that chronic dry eye usually occurs in both eyes. Symptoms include a burning sensation in the eyes, mucus in or around the eyes, sensitivity to light, difficulty with contact lenses and blurred vision that worsens at the end of the day. Experts at Harvard University's Beth Israel Deaconess Medical Center describe the pain that can accompany dry eye syndrome as "the sensation of a foreign body in the eye." In severe cases, they warn that cornea damage can occur, possibly leading to blindness.
Factors to Consider
Doctors at the Mayo Clinic describe the tear film as having three components: oil, water and mucus. Problems with any of those features can lead to dry eye syndrome. In addition, problems with your eyelids, which often occur with age, can impact blinking. Blinking is a complex process that spreads the tear film over your eyes. The average person blinks about once every12 seconds, according to the Mayo Clinic. Eyelid problems that hinder blinking can negatively impact tear production. Medications, such as birth control pills, high blood pressure drugs, and some anti-depressants can trigger dry eye symptoms. Dry environmental conditions, including wind, high altitudes and sun also contribute to the problem.
Menopause
Dr. David Sullivan and his colleagues at Harvard University's Schepens Eye Research Institute have shown that dry eye syndrome disproportionately impacts women. Dr. Sullivan claims that estrogen replacement therapy increases the likelihood that post-menopausal women will experience the signs and symptoms of dry eye. This, according to the Harvard research team, puts millions of women at risk for dry eye syndrome as they attempt to ameliorate the symptoms of menopause.