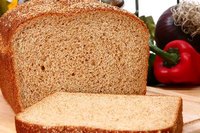 Dieters, bodybuilders and diabetics know that the key to weight loss includes knowing the difference between fast digestible and slow digestible carbohydrates. Slow digestible carbohydrates keep the stomach feeling full and regulate the release of glucose within the body to avoid spikes and depressions in blood sugar levels. The body responds to glucose in the bloodstream by raising insulin production, which in turn causes the body to feel hungry. The rate at which carbohydrates are digested and glucose level impacted is rated using the glycemic index scale.
Grains
Good choices for grains are breads, cereals and other starches that are minimally processed. Whole grain breads or those made with stone-ground flour are better options than white breads and starches. Breakfast cereals that contain whole oats, barley or bran are better options than more processed, sugar-laden cereals or breakfast pastries. Try to choose whole wheat pasta, quinoa or wild rices for your lunch or dinner food choices. Whole grains will digest more slowly than processed carbohydrates.
Vegetables
Vegetables are a great addition to your diet not only for the nutrients and fiber they provide, but also because they are a natural source of slow digestible carbohydrates. Most vegetables are good choices, though potatoes, corn, squash and cooked carrots are digested faster than other vegetables. Because the body is unable to quickly process the fibrous peels on vegetables and fruits, eating the peel on potatoes and yams can help to lower the glycemic load of these vegetables. Other options for slow digestible carbohydrates include beans, broccoli, lettuce, celery, green beans and Brussels sprouts.
Fruit
Portions of fresh, unsweetened fruit can be a good choice for a slow digesting carbohydrate. Fruits that contain a large amount of fiber like apples, pears, grapes and oranges make an excellent replacement for more quickly digested desserts. To maximize digestion time, fruit should be eaten raw, with peeling intact. Fruit juices are not a good replacement for fresh fruit, as they do not contain the fiber of fresh fruit and are processed very quickly by the body into glucose.
Combination Factor
Quickly digested grains such as white rice or white bread can be part of a slowly digestible meal. By adding a slowly digested vegetable such as broccoli to the meal, the digestion of the food slows and keeps you full for a longer period of time. Mixing a small amount of high-glycemic foods with low-glycemic foods can help to maintain stability in blood sugar readings.