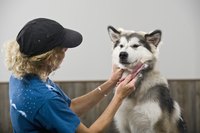 Brushing your dog will remove any loose fur it is shedding, and it will help get rid of painful tangles, uncomfortable matted hair, plant material and dirt. Once you begin a regular brushing routine, you will cut down on the amount of fur in your home, including the fur that falls off your shedding dog and gets onto your clothes, floors, carpets, furniture, curtains and cars. When tackling your dog's shedding problem, it is important to use the right brush for the job and to choose the best brush for your dog.
Slicker Brushes
Slicker brushes have fine wire bristles embedded into a cushioned surface and a wood or plastic handle. Slicker brushes work best for removing loose hair and tangled mats from long-haired or curly coated shedding dogs.
Self-cleaning slicker brushes, like the Evolution Firm Self-Cleaning Brush, Safari Self Cleaning Brush and PetZoom Grooming Brush, are easy to use because they have retractable steel pins that allow you to remove hair and fur by adjusting a lever or pressing a button.
Pin Brushes
Pin brushes are usually oval-shaped with rust-resistant, rubber-coated wire pins to prevent scratching or irritating the skin. They separate and untangle fur on shedding dogs with sensitive skin and medium to long thick, woolly or curly coats.
Bristle Brushes
You can use bristle brushes, which have nylon or boar bristles, on all coats, but they are especially good for small dogs and dogs with sensitive skin. Bristle brushes can stimulate a dog's skin and increase coat health. They may be the best brushes for everyday grooming to get rid of surface dust, dirt and dead fur on your dog.
The Dog Supplies Advisor suggests using a special bristle brush, called the "Porcupine Brush," one of the best brushes for removing "loose hair and debris from shedding medium to long-haired dogs."
Rubber Brushes
The design of rubber brushes allow owners to gently pull loose hair from short-coated shedding dogs. Instead of using typical brush strokes, you should massage your dog's wet or dry coat in a circular motion. Rubber curry brushes are the best brushes for removing dead, unwanted hair and bringing a healthy sheen to the fur of short-haired dogs.
ZoomGrooms are unique rubber brushes created by the Kong Company for long- or short-coated dogs. They are waterproof and especially popular at bath time; they attract a shedding dog's dead fur and are easy to empty. The gentle ZoomGroom brushes do not yank or pull fur. They massage a dog's skin, stimulate capillaries and promote natural oil production, leading to a healthy coat and skin.
Undercoat Rakes, Shedding Blades and the FURminator
The undercoat rake works well for dogs with dense double coats. The rake's teeth penetrate through the overcoat into the thick undercoat to remove loose hair or work out tangled, matted fur.
Used like a brush, shedding blades are the best tool for removing loose hair from thick-coated, heavily shedding dogs.
The FURminator deshedding tool has received positive press, including a recommendation by Consumer Reports in October 2006, plus rave reviews from people with shedding, long-haired dogs. The FURminator may reduce shedding up to 90 percent by removing dogs' loose, dead undercoat without hurting their topcoat.