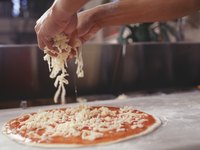 Nestled between two major highway points immediately off of Exit 49, this small Nassau County town, originally named "Sweet Hollow," is rest stop for those traveling to and from Long Island. Situated off Highway 110, Melville is a common stopping point to re-fuel while traveling throughout Long Island. Whether you are a local or traveling, Melville offers a host of restaurants located near Highway 110.
Mario's Pizzeria of Melville
Established in 1969, this restaurant serves up pizza, subs and sandwiches. Their menu selections include thin-crust New York style pizza, made with California Roma tomatoes and Wisconsin Mozzarella, as well as other classic Italian dishes, such as spaghetti and meatballs. It is located straight off of route 110, at the Walt Whitman and Schwab Road intersection.
1 Schwab Rd Melville, NY 11747 631 385-7000 mariospizzaonline.com
Frederick's
It's not a typical pit stop, but this Zagat-rated restaurant hits the spot if you want meal served in what a Long Islander News review called \"a comfortable, rustic atmosphere.\" Established in 1979, Frederick's offers a variety of dishes, but seafood is their emphasis. The average price of an entree ran $17.00 to $30.00 in 2010.
1117 Walt Whitman Road Melville, NY 11746 631-673-8550 fredericksofli.com
Gemini Deli
Their motto is "fine food fast," serving breakfast and lunch items from 8 a.m. to 4 p.m. Breakfast consists of omelettes, oatmeal and pancakes, among many other selections. For lunch, choose from a variety of salads, sandwiches, hamburgers and paninis, among many other menu items.
1198 Walt Whitman Road Melville, NY 11747 631-692-6400 geminideli.com
Sweet Hollow Diner
If you are looking for a diner meal between $10.00 and $15.00 (as of 2010), you will find most menu selections fall within this price range at Sweet Hollow Diner. Whether you're in the mood for a milkshake, Belgian waffles, or larger seafood, vegetarian or meat dishes, you will find an assortment of home-cooked food here. They also have a kid's menu and snack foods, including French fries, onion rings and grilled-cheese sandwiches.
100 Broadhollow Road Melville, NY 11747 631-549-0768?