Many ailments are associated with aging, such as arthritis and osteoporosis. Both of these conditions tend to disable normal balance and movement of the body when walking. While medicines can help in reducing the associated pain, elderly patients may still require walkers to move around safely. A walker is a device, usually made of lightweight metal and adjustable for height, used to assist people with balance and mobility while walking. There are many types of walkers, and your choice can depend on the stage and type of ailment as well as the patient's walking capabilities and upper-body strength.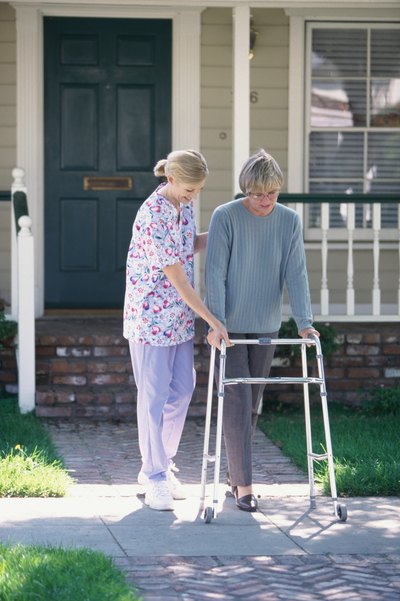 Standard Four-Legged Walker
This is a basic walker that has four legs joined by cross bars. A rubber shoe-stopper on each leg gives the walker a steady base when the patient is using it. The patient must lift the walker, move it ahead of him, then pull the rest of his body forward, balancing his weight on the walker. This process of lifting and moving can be an inconvenience, but this is a more stable walker compared to some other varieties.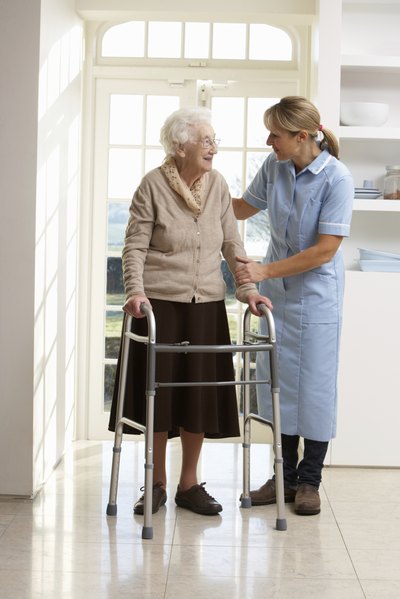 Front-Wheeled Walker
This is a very similar walker to the four-legged walker, with the only difference being that the front two legs have wheels instead of rubber shoe-stop bases. The elderly person using this type of walker pushes the walker ahead by just slightly lifting the two legs on the back, then firmly setting the two hind legs down and balancing on them as she moves forward.
This walker gives the patient some ease as far as lifting and pushing is concerned, however, a misjudgment or hurried movement can cause the walker to roll or slide, possibly leading to the walker tipping.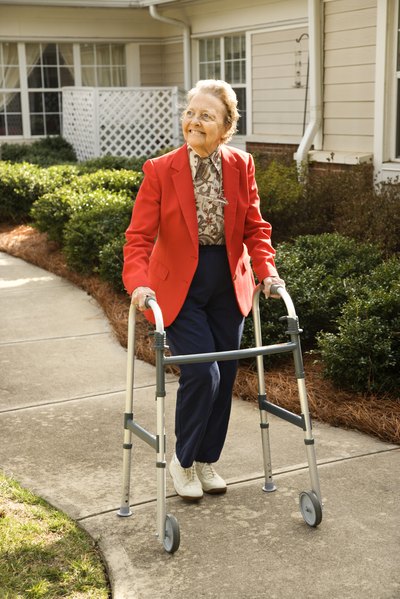 Four-Wheeled Walker
This is another modification of the standard four-leg walker. All of the legs are fitted with wheels, giving the user more mobility to move around at will. However, controlling the wheels and preventing undesired rolling is more of a concern; wheeled walkers do not support body weight evenly and require more accurate maneuvering from the user.