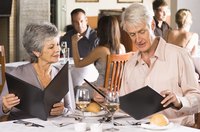 Swamped in a sea of corporate chain restaurants and fast food joints, many independent restaurants nonetheless stand in the area around The Source and Roosevelt Field Mall in Carle Place, New York, tempting consumers with the taste of some local flavor after a hard day of shopping. The area's layout makes it easy to maneuver from mall to mall while stopping for a bite to eat along the way.
Shiro of Japan
Shiro of Japan in Carle Place puts diners within half a mile of both the Roosevelt Field Mall and The Source. Shiro's serves authentic Japanese cuisine in the hibachi steak house tradition. Menu items include varieties of hibatchi and Kobe cooked meats, sushi, and noodles. American-style treats such as cheesecake and ice cream fill the dessert menu. Shiro's offers an assortment of wines and domestic and Japanese beers. The restaurant is open seven days a week for dinner and every day except Sunday for lunch.
Shiro of Japan | Carle Place 401 Old Country Road Carle Place, New York 11514 (516) 997-4770 shiroofjapan.com
LL Dent Restaurant
Located across the street from Roosevelt Field, one mile west of The Source, LL Dent Restaurant adds a bit of southern flair to Long Island. Appetizers such as crispy fried chicken livers and fried green tomatoes complement the menu's hearty main entrees, such as the pulled port sandwich. Sweet potato pie and peach cobbler and other southern treats round out the dessert menu. Diners can enjoy the home-style cooking of Brooklyn-born Chef Leisa six days a week (closed on Mondays).
LL Dent Restaurant 221 Old Country Road Carle Place, NY 11514 (516) 742-0940 lldent.com
Cafe Formaggio
Serving fine Italian cuisine since 2006, Cafe Formaggio, situated at an equal distance from both Roosevelt Field and The Source, brings a taste of the old world to Carle Place. Diners can enjoy the comforts of the dining room or grab some pizza to go. Grilled artichokes hearts, grilled calamari and shrimp, pasta, and sole limoncello are just a few of the items found on the menu. Fine wines complement every meal. Cafe Formaggio is open seven days a week.
Cafe Formaggio 307 Old Country Road Carle Place, NY 11514 (516) 333-1718 cafeformaggio.com