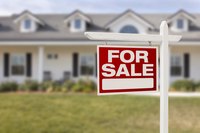 Size, location and condition are just some of the factors that can push housing prices up or down. Certain other factors, such as economic growth, local job availability, supply of housing, and housing demand, are beyond a seller's control. Be aware of all the trends if you want to know how property values will track.
Affordability
Although the correlation between mortgage rates and home prices isn't strong, other factors help to keep rising interest rates from pushing housing prices down. For example, mortgage rates usually rise when the economy improves, raising both wages and inflation. The demand for housing increases as more people can afford to buy a home. Higher demand pushes up the prices. Even though lower mortgage rates can make financing a home more affordable, lower rates do not necessarily increase housing demand.
Local Economy
Regional economies affect local housing markets as employment opportunities and incomes can impact housing prices. Historically, the demand for housing increases as the economy improves and unemployment rates go down. Higher incomes push prices up as more people are in a financial position to buy a home and the supply of available homes for sale decreases.
Housing Inventory
Few homes for sale in a desirable neighborhood usually means a seller can get a higher price. While high market demand pushes up housing prices, once supply exceeds demand, housing prices start to fall. When the market is flooded with a large inventory of homes for sale, buyers have more choice, which means houses can sit on the market for longer. For that reason, a seller may be willing to accept a lower offer.
Demographic Trends
A significant change in a population's demographics influences what types of housing are in demand. For example, many baby-boomers downsizing to smaller homes increases the demand for smaller properties. This increases the inventory of larger homes on the market, dropping home prices on those bigger homes. More working-age Americans moving closer to their jobs in the city is a changing trend that is leaving more houses for sale in suburban areas.
Condition of the Home
A home's size, age and condition can decrease its value and lower the selling price. An antiquated heating system, outdated electrical wiring, plumbing problems, foundation damage, or a roof in poor condition are costly to replace or fix. Consequently, prospective homebuyers may offer less for a home that requires major repairs. A home's age is a factor as well. Although not always the case, older homes often require major upgrades while newer homes need fewer repairs, either of which can affect the offer a seller receives.