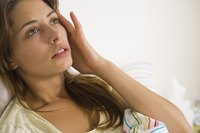 Signs and symptoms of stress on the nervous system are the body's way of alerting us about potential harm. Stress is an automatic response to perceived threats, and it triggers action from the nervous system. Signs and symptoms consist of combined nerve and hormonal signals, and without them, the nervous system could go into overload. To avoid this from occurring, you need to recognize the cues. Stress signs and symptoms can be cognitive, emotional, physical and behavioral.
Cognitive
Cognitive symptoms of stress are associated with the ability to use reasoning, intuition or perception. They include memory loss, poor attention to details, inability to focus, pessimism, anxiety and constant worry. Other cognitive signs of stress are a tendency to blow things out of proportion or to be a perfectionist. Thoughts of death and feeling helpless are cognitive symptoms. Poor judgment and indecisiveness are also considered cognitive signs.
Emotional
Emotional signs of stress are associated with subjective feeling. Loneliness, moodiness and sadness are all emotional signs of stress. Agitation, anger and irritability can reveal emotional stress on the nervous system. Poor self-esteem, loss of motivation and feelings of being overwhelmed are also emotional signs of stress, along with crying, suspiciousness and feelings of guilt.
Physical
Physical symptoms of stress can be unexplainable physical pain. Also, muscular aches, headaches and backaches can be due to stress. Tightness in the chest, difficulty breathing and stomach cramps may be signs of stress. Fatigue, insomnia and the loss of sexual interest may be symptomatic as well. Gastrointestinal disorders such as diarrhea, constipation, acid reflux, ulcers and irritable bowel syndrome may be experienced under stress. A loss of sex drive may be symptomatic of stress. There may be skin conditions such as acne and eczema. An altered immune system, elevated blood pressure and elevated blood sugar levels could also be physical symptoms.
Behavioral
Behavioral signs of stress are indicated through actions and responses. They include increased alcohol and caffeine use, drug use and cigarette smoking. Overeating and weight changes may indicate stress. Conflicts in relationships and violence may be behavioral signs of stress. Inactivity and excessive sleeping may also have stress as an underlying cause.