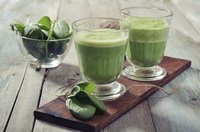 If you're trying to get more veggies in your diet, juicing can help you reach your goals. As a concentrated source of nutrients, spinach juice supplies essential vitamins and minerals without many calories. Incorporate spinach in your juicing to boost your nutrient intake and enjoy several health benefits.
Good for Your Bones
Juicing spinach promotes bone health. In addition to calcium, spinach also contains other nutrients you need for healthy bones, including vitamins A, C and K, as well as magnesium.
One cup of raw spinach meets 3 percent of the daily value for calcium, 6 percent of the daily value for magnesium, 14 percent of the daily value for vitamin C, 56 percent of the daily value for vitamin A and more than 100 percent of the daily value for vitamin K. The more spinach you juice, the more nutrients you get. One cup of raw spinach produces a little less than 1 ounce of juice, according to the Juice Nut.
Super Antioxidants
Spinach is a natural source of a number of antioxidants, including beta carotene, vitamin C and manganese, and juicing it can really up your intake. Antioxidants are substances that act as a defense mechanism against free radicals, which are chemicals that damage your cells, alter DNA and may be a risk factor for developing heart disease and cancer. The Harvard School of Public Health says it's always better to get these age-fighting nutrients from healthy foods like spinach rather than a pill.
Better Blood Nutrition
Getting more spinach in your diet by juicing is also good for your blood. One cup of raw spinach meets 5 percent of the daily value for iron and 15 percent of the daily value for folate. Iron helps keep your red blood cells healthy, while folate helps your body manufacture more red blood cells. Spinach also contains small amounts of thiamine and niacin, which are also blood-building nutrients.
Juicing vs. Eating
Some say juicing is better for you than eating the vegetable because your body is able to absorb more of the nutrients, but there is no scientific evidence to support this claim, according to MayoClinic.org. When you juice spinach, you get most of the vitamins, minerals and phytonutrients, but none of the fiber.
Fiber is a beneficial nutrient that improves digestion and may lower your risk of heart disease and diabetes. It also adds bulk, helping you feel full, which may assist in weight control or loss.