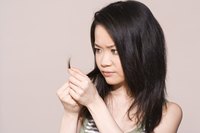 Winter weather or too much heat styling can strip hair of essential moisture. Thankfully, you can easily fix dry hair with natural home remedies. No need to buy an expensive deep conditioner when you have everything you need at home. Just look in your kitchen cupboard or fridge and you will find several hair nourishing foods like olive oil that can restore balance for your hair, resulting in soft shiny locks.
Mayonnaise
Mayonnaise is a hamburger enhancer that also works well for dry hair. Mayo is rich in moisture (water) and fats. Simply slather 1/2 cup of mayo on dry hair, let it sit for 30 minutes and then rinse. Do not leave mayo on overnight because over time the mixture will start to smell.
Raw Honey
Honey contains enzymes and vitamins that benefit dry hair. The main enzymes in honey are diastase, invertase, glucose oxidase and catalase, which all have antibacterial proprieties. There are several trace vitamins found in honey such as niacin, iron and zinc. Honey also holds more than its own weight in moisture, which is derived from water and nectar spores. The water content in honey may vary depending on how it was stored.
Honey also smells nice, so you can leave it on as an overnight treatment. Slather your locks with 1/2 cup of raw honey and put on a shower cap. When you wake, wash out the honey. This treatment can be done twice a week to combat dry hair.
Peanut Butter
Peanut butter is rich in protein, moisture and vitamins B6 and E. Smooth in 1/2 cup of nutty goodness on your hair, leave on for 30 minutes and then rinse. This treatment can also be left on overnight if you choose, just be sure to put on a shower cap.
Coconut Oil and Olive Oil
Both coconut and olive oil are very beneficial for your hair. These oils are loaded with vitamins and omega-3 fatty acids that nourish dry hair. Oils also lubricate hair, combating dryness. If you suffer from a dry scalp, rub oil on your scalp. Leave these oils on your hair for 30 minutes or longer and then wash out.