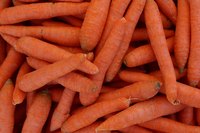 Adding high-fiber foods to a healthy diet can lower the risk of health problems such as diabetes and heart disease, and aid in maintaining a healthy body weight. According to the Mayo Clinic, men should ideally consume at least 30 to 38 grams of fiber per day and women should aim for no less than 21 to 25 grams per day. There are a variety of easy-to-digest, high-fiber foods you can add to your diet to increase your daily fiber intake.
Vegetables
Many foods in the vegetable group contain high amounts of fiber and are easy to digest. Raw carrots and carrot juices can aide in digestion and contain high amounts of fiber. Cooked vegetable options that are high in fiber include brussel sprouts and artichokes. Boiled broccoli and turnip greens are also good sources of fiber. Other vegetables containing high amounts of fiber include sweet potatoes (6 grams per cup), winter squash (5 grams per cup), peas (9 grams per cup), and kale (7 grams per cup).
Fruits
An array of easy-to-digest fruits are available to add to a diet high in fiber. Fruits are also highly effective at cleansing the body of toxins. For this reason, individuals who do not currently include fruit in their diet may need to gradually introduce fruits back into their system. Examples of high-fiber fruits include strawberries (4 grams per cup), apples (5 grams per medium apple), raspberries (8 grams per cup), pears (5 grams per medium pear), oranges (3 grams per medium orange), grapefruit (6 grams per 1/2 grapefruit), and bananas (3 grams per medium banana).
Beans, Nuts and Seeds
Beans, nuts and seeds can be consumed to add more fiber to a diet and promote healthy digestion. Items in this category that are particularly high in fiber include split peas, black beans, lima beans, lentils and baked beans, all of which contain over 10 grams of total fiber per cup according to the Mayo Clinic. Other fiber-rich items that are included in this category are almonds, pecans, walnuts, sunflower seed kernels, flax seeds, soybeans, pumpkin seeds, garbanzo beans and pistachio nuts.
Grains
Whole-grain breads, pastas and cereals are known for being high in fiber and can be integrated into a high-fiber diet. Foods in this category include barley, whole-wheat pasta, oatmeal, brown rice, air-popped popcorn, bran and whole-wheat bread. Foods containing the highest amounts of fiber in this category include bran flakes (5 grams per 3/4 cup), pearled barley (6 grams per cup) and whole-wheat spaghetti (6 grams per cup).