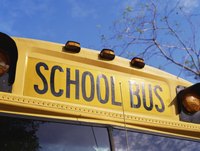 The giant yellow Twinkie commonly known as the traditional American school bus is responsible for bringing kids to and from school all over the country. Although we may take it for granted, there are thousands of people behind the scenes working to keep your kids safe on their daily journey.
First Student, Inc.
According to their website, First Student, Inc. is the leading school bus company in North America. They maintain over 60,000 school buses and employ 68,000 drivers to bring 4 million children to and from school on a daily basis. They offer a number of transportation services to schools, including route planning, GPS tracking devices on each bus, charter bus rentals and bus maintenance. First Student stresses that its primary concern is safety, whether it comes to picking students up, driving in icy conditions, or running regular drug and alcohol tests on the drivers. Schools can outsource their transportation needs to First Student, who will create a comprehensive service plan and work within the budget of each individual school district.
First Student, Inc. 600 Vine Street Suite 1400 Cincinnati, OH 45202 1-866-960-6274 http://www.firststudentinfo.com/index.php
Durham School Services
Durham has cultivated an image as company who cares, both about its employees and its precious cargo, the school children. The Special Olympics are the primary charitable cause for the company, who also provides special needs transportation. The company has been in operation since 1917, with nearly 13,000 school buses, and operates in 29 U.S. states. It is a subsidiary of the National Express Group, a UK-based international transportation company. Durham can fill many transportation needs, including home-to-school, field trips and summer trips. As a private company, Durham must meet all of the rules and regulations that a school district does, along with some additional standards.
Durham School Services 1431 Opus Place, Suite 200 Downers Grove, IL 60515 1-800-950-0485 http://www.durhamschoolservices.com/Home/tabid/36/Default.aspx
Blue Bird Corporation
For over eighty years, Blue Bird has been manufacturing school buses for the United States, including the more recent "All American" flat-front buses. The company is based in Georgia and employs around 1800 people. Blue Bird works in partnership with the American School Bus Council and The National Association for Pupil Transportation, providing the latest in safe and efficient transportation to school s across America. According to their website, Blue Bird is one of the best in the industry when it comes to stocking bus parts, which means that clients can get up to date replacement parts for their buses.
Blue Bird Body Co. 402 Blue Bird Blvd. P.O. Box 937 Fort Valley, GA 31030 http://www.blue-bird.com/default.aspx