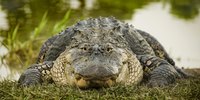 Alligators are the official reptile of Florida. Although preferring to inhabit the state's wetlands and swamps, gators can be found in rivers, lakes, canals and freshwater areas. Even with a long history of relatively peaceful cohabitation, alligators and Floridians have both experienced the grim consequences of this relationship. Once on the endangered species list, Florida gator population has now increased to sustainable numbers. Strict rules to maintain a safe relationship between these powerful reptiles are embedded and enforced amongst Floridians. However, various alligator attractions throughout the state make it possible -- and safe -- to glimpse these age-old beasts, both from a distance in their natural habitat and up close and personal.
Gators in Nature
In the natural wetlands of the Big Cypress Seminole Indian Reservation, Billie Swamp Safari allows visitors to view gators in their natural habitat aboard swamp buggies and air boats. For a closer look, the eco-park also hosts daily alligator and snake shows. Visitors are also invited to learn about Seminole heritage through traditional crafts and entertainment and can choose to stay overnight. The Ellie Schiller Homosassa Springs Wildlife State Park focuses on education and observation of all types of Florida wildlife. In addition to Florida alligators, the state park boasts manatees, snakes, black bears, birds, deer and bobcats. Another place to view gators in their natural setting is Jungle Adventures Nature Park in Christmas, Florida, where it's said visitors can "see, hear, smell, and feel old, real Florida" as they peruse their natural habitat animal park.
Gator Wrestling
If you want a more active gator experience, Miccosukee Indian Village is a tourist attraction dedicated to the history and culture of the Miccosukee Indian tribe of Florida. While it is not the main focus, the village offers daily alligator demonstrations where tribesmen enter a pit of alligators and perform native rituals while interacting with the reptiles. During these demonstrations, the tribesmen are known to even pry open the alligator's strong jaws with their bare hands. For a more relaxing experience, you can also hop aboard a swamp airboat, gliding through the Everglades with a keen eye for alligators.
Alligator Farms
Started in 1957 and revamped in 1986, Palmdale's Gatorama Alligator Farm claims to have the largest collection of alligators and crocodiles -- anywhere in the world. The 15-acre attraction's main attraction is alligators -- and crocodiles -- but visitors can also view other Florida wildlife such as bobcats, raccoons, ducks and geese. On hot summer days, the 1,000-foot covered walkway is a good place to find shade. Homestead's Everglades Alligator Farm boasts being one of the last surviving, functional alligator farms. The owners do not slaughter gators, but they do sell their eggs to other farms. Because of their purpose, visitors are spared alligator shows in favor of airboat tours on the water. The country's oldest city is home to St. Augustine Alligator Farm where you can view alligators alongside native Florida bird species -- during the spring season you can spot bird nests filled with eggs. The birds carefully select spots above alligator pits in order to protect their young.
Life Is a Zoo
While many of Florida's alligator attractions leave gators in their natural habitat, this is not always possible. Some of the sunshine state's alligators can be found in zoos or theme parks. Miami's Jungle Island is a zoo with a mix of plants, birds, animals and reptiles. While many of the species are indigenous to Florida, such as alligators, visitors can also see orangutans, chimpanzees, baby tigers, the genetically engineered liger -- a mix between a lion and a tiger -- and other exotic animals. Also in Miami is the Everglades Safari Park where gator gawkers have the opportunity to take airboat rides, watch alligator shows, pet an alligator and even take a private boat tour. Other theme parks and zoos include Orlando-adjacent Gatorland in Kissimmee.