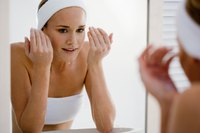 Face wash removes dirt and excess oil from the face, but there are dozens of ingredients that make up the product. While most of the ingredients are preservatives or chemical formulas, there are some basic additives that work to cleanse the skin, improve cell renewal and clear up potential acne-causing culprits.
Salicylic Acid
Face washes that are used for acne-prone skin contain salicylic acid, because it dissolves dirt and oil that build up in the pores to cause acne, blackheads and whiteheads. Look for products that have 2 percent salicylic acid in a creamy face wash so that it cleanses away excess oil without over-drying the skin. Wash the face once a day if it contains salicylic acid, otherwise you run the risk of removing too much of the natural oil from the skin, which can exacerbate acne flare-ups.
Glycolic Acid
Glycolic acid is an important ingredient in face washes to reduce the appearance of fine lines and wrinkles. The ingredient is derived from fruit acid, and it helps to remove dead skin cells to reveal fresh, youthful skin cells. Glycolic acid is also helpful for those who want to reduce the appearance of age spots, wrinkles or fine lines because the acid penetrates into the skins surface, removing cells that cause the skin to appear aged. Use the face cleanser that contains each night to keep skin cells rejuvenated and encourage the production of elastin and collagen—both of which prevent deep lines and wrinkles.
Green Tea Extract
Depending on the type of face wash you purchase, finding a product that contains green tea extract is healthy not only for the body internally, but for the skin as well. Green tea is known to be a powerful antioxidant that reduces the negative effect of free radicals to the skin, and contains EGCG which is a polyphenol that fights against cancer, according to the University of Maryland's Department of Complementary Medicine. Green tea extract in face wash helps to increase circulation in the skin cells, reduce inflammation caused by acne and remove oils and excess dirt which clog pores.