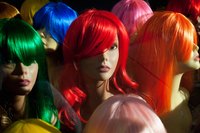 If you're looking for a low-priced wig that's easy to care for, consider a synthetic wig. Human hair wigs can frizz or lose their style if they get wet. They must also be washed and styled regularly and can be cut, permed or colored. Most synthetic hair wigs cannnot be colored, permed or styled with heat products. But the fiber "hair" keeps its style after repeated washings and is not affected by weather or humidity.
"Always"
The Always synthetic wig by Raquel Welch was voted "Best Synthetic Wig of 2009" by Wigs.com because of its ability to be styled by heat products and its natural look. The wig, which feels and looks like real hair, is a shoulder-length, layered style with long shaggy bangs. It can be styled many ways for evening and day wear, comes in several colors and flatters all face shapes. Always by Raquel wigs can be purchased at wig retailers throughout the country and on line for $120.
"Scorpio"
The Scorpio by Revlon is a sleek and shiny short, bob-styled wig. The ends are textured and tapered slightly toward the face. It comes in several colors and sizes and can be styled for formal occasions or everyday use. This wig style compliments oval-, diamond-, heart- and oblong-shaped faces. Voted one of 2009's best wigs by Wigs.com and rated highest by customers on Wigsalon.com, Scorpio costs $105 and is available online and at wig retailers nationwide.
"Coco"
The Coco by Rene of Paris, a short pixy-type style with wispy, textured ends, is highly rated by Wigsalon.com. Priced at $115, the wig is available in many colors and can be styled either flat and layered or with a pumped-up, voluminous look with wet hair rollers. This style of wig best fits an oval-, pear- or diamond-shaped face.