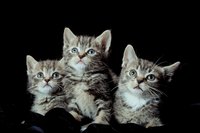 I have noticed that trends are constantly changing, in all aspects of our lives. Surprisingly, these trends often trickle down to our pets, whether it be a dog sporting a Rhine-stone collar or a cat munching on organic kibble. One fad that seems here to stay in our grocery stories is soy milk; it has risen in popularity in recent years. Some may think that it stands to reason that if soy milk is good for a human's diet, it must also be beneficial to our kittens and cats -- or is it?
A Kitten's Digestive System
From birth to about 4 weeks of age, a kitten's diet is comprised solely of its mother's milk. Mother Nature has made sure that they can derive all of the nutrients that a kitten needs from mom's milk. At this stage of development, a kitten is producing its peak levels of an enzyme called lactase, which aids in the digestion of lactose, found in milk. As kittens mature and are weaned, the amount of lactase produced drops off. It is at this point that the cat's delicate digestive track begins to further develop, and it becomes harder for your growing feline to tolerate milk, either from an animal or in a synthetic form.
Soy Milk Risks and Benefits
Pet owners may be tempted to give their kittens soy milk in place of cow's or cat's milk. It is important to remember that until a kitten is weaned, it only needs it's mother's milk. After your kitten is weaned, about 30 percent of your kitten's total energy should come from protein, which soy milk contains. However, soy milk should not become the major component of your furry friend's diet, as it does not contain all of the nutrients needed to encourage a happy, healthy kitten to grow. From the time it is weaned to approximately 1 year of age, a kitten should be fed a nutrient-rich, kitten formula, which is easily found in the pet supply section of your local grocery store. If your cat seems to enjoy the flavor of soy milk, it can be offered to your kitty sporadically, as a special treat. "Treats" given to your cat should not comprise more than 5 percent of its daily calories.
Is Soy Upsetting Your Cat's Stomach?
A young cat's stomach is a delicate thing, and can be easily upset by new foods. When allowing your cat to eat or drink a new food, it is best to keep the old adage "everything in moderation" in mind. Whether you are giving your kitten a teaspoon of soy milk or a "cat treat" purchased from the store, it is best to introduce it to your cat in small doses. Watch your cat for signs of indigestion, including vomiting, diarrhea, and less commonly, constipation. If your kitten seems to like the flavor of soy milk and is able to tolerate without any stomach distress, it can be a tasty and healthy snack for your feline companion.