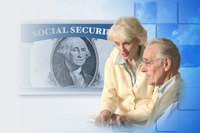 Typically, all individuals who work must pay Social Security, or FICA (Federal Insurance Contributions Act), tax. The government collects Social Security tax through payroll withholding and keeps track of earnings and payments, and then disburses funds when an individual becomes disabled, reaches Social Security retirement age or becomes eligible for benefits for any reason. In 2009, for every $1,090 earned, an individual earns one credit toward future benefits.
Withholding Amounts
The United States requires every employee who earns wages for work or services provided to an employer to pay Social Security tax. However, the government limits the amount of Social Security tax that the employer withholds from earnings. In 2008, the amount of Social Security taxes taken out was 6.2 percent of earnings up to $102,000; in 2009, the earnings ceiling changed to $106,800. For self-employed workers, the Social Security tax due was 12.4 percent in both years, with the same ceiling.
Exemptions
Some workers are exempt from having to pay Social Security tax. An employee who earns less than $150 from an agricultural employer does not have to pay Social Security taxes, as long as he meets four other requirements: employment as a hand-harvest laborer; working fewer than 13 weeks during a calendar year in agriculture; commuting from his residence; and being paid on a rate-piece basis. A non-resident alien does not qualify for this Social Security tax exemption. Student employees whose primary relationship with their institution is being a student may qualify for tax withholding exemptions, as may medical students and residents.
Social Security Recipients
A Social Security recipient is typically not required to pay Social Security taxes if her Social Security benefits are her only source of income. However, taxes must be withheld if she receives other sources of income, such as a pension or part-time job. If a person is receiving Social Security benefits, but she works a part-time job, she is still required to pay into Social Security.