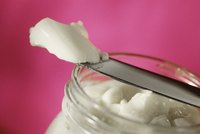 An allergy to cottonseed oil is considered rare because it does not fall into the top eight: peanuts, soy, milk, egg, tree nuts, fish, wheat and shellfish. Food allergies can cause symptoms ranging from mild headache or gastrointestinal problems to more serious reactions such as severe hives and anaphylactic shock and therefore must be taken seriously when symptoms appear. The first and most important step after a diagnosis of an allergy is avoidance of the culprit in all its forms.
What Is Cottonseed Oil And Where Does It Come From?
Cottonseed oil is the third most common oil being used today besides corn oil and soybean oil. The best way to know what cottonseed oil is being used for is to keep up to date on the latest trends and innovative uses for the oil and cotton crop industry. Derivatives of cottonseed are being used for plastics, propellants, rayon, pharmaceutical emulsions, photography and x-ray film, fine paper and even paper currency.
Foods To Avoid
Avoiding foods and products containing cottonseed oil is most of the battle. The most common places where cottonseed oil is used is in any recipe that calls for oil or shortening, so be sure to properly read every ingredient on labels to lessen a possible reaction. Mayonnaise, dressings and sauces commonly use cottonseed oil as do many baked goods such as breads, cookies and cakes. Fried foods and fast food chains commonly use cottonseed oil and vegetable oil blends to fry everything. Go directly to the fast food chain's website to view exact ingredients before consuming. After a few hours of reading ingredient lists, don't be surprised if many prepared foods are off the menu. Since this ingredient is so prevalent in the United States, learning to cook your favorite items at home to ensure all ingredients are completely safe is the key to varied and healthy eating. You can replace any recipe that calls for cottonseed oil with palm nut oil (if you are not allergic to nuts). If the recipe calls for shortening, butter softened to room temperature works well and is best for baking. Also be on the lookout for "natural flavors" or "vegetable oils" in the ingredients as these can be genetically modified oils from cottonseed, soy or corn oils. "The Omnivore's Dilemma" by Michael Pollan is an eye-opening read on this topic and is a great source of information about all the companies involved in farming and agriculture of the major crops that feed the American public. If you are especially sensitive to cottonseed, you should also call the companies behind the meat products you buy to find out if your reaction is from the meat you're eating, since cottonseed is also used as a feed for poultry and cattle.
Places Where You'd Least Suspect It
Unfortunately, food is not the only place cottonseed oil is used. Cottonseed oil can also be found in many personal care products, including soaps, shampoos and conditioners. It is also used in many top makeup brands and beauty products, including eyeshadow, lipsticks and lip gloss. Always read ingredients before using anything that is ingested or has direct contact with your skin.