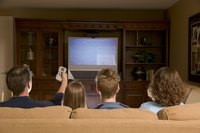 Top cable companies throughout the world provide not only television entertainment but also Internet and phone services. Many top European cable companies do business not only in their home countries and other countries on the continent but also abroad, such as in Asia, Australia and Latin America.
Liberty Global
Based in Ireland, Liberty Global (LG) offers broadband Internet, telephone and video services. In addition to its operations in Ireland and other countries in Europe, LG has a presence in Japan, Australia and Chile. As of 2009, the company provided some kind of services to more than 34 million homes with revenue of more than $1 billion.
Virgin Media
Virgin Media claims to be the leading entertainment and communications company in the United Kingdom and the first to offer television, broadband Internet, mobile services and landline phone from the same company. The company has a number of bundles and special offers, TV packages and TV on demand.
Kabel Deutschland
Kabel Deutschland (KD) is the largest cable company in Germany. It has cable networks in 13 German federal states and provides service to 9 million households. KD offers mobile and landline phone service as well as cable television and broadband Internet access.
Cablenet
Though small compared to companies like Virgin Media, Cablenet has the distinction of being the only cable service provider in Cyprus. It offers TV, Internet and telephone to home subscribers, available in differently priced bundles. Cablenet features local channels as well as international cable channels, such as Discovery, Trace TV from France and the Style Network. Cablenet also offers business services.
Sky Digital
Sky Digital is one of Europe's largest providers of TV, Internet and phone services. As of September 2009, Sky Digital has 16,000 employees and almost 10 million customers in England and Ireland. Sky also has high-definition TV service and Sky Talk mobile phone plans. It offers Freesat, which, after an initial purchase of a Sky box, mini-dish and installation, gives customers free radio and TV channels with no monthly subscription fee.
Cyfrowy Polsat
According to Digital TV Europe, the king of Polish cable TV is Cyfrowy Polsat. Cyfrowy claims to the be the fourth-largest digital and cable TV company in all Europe with almost 30 percent of all the households in Poland having a Polsat setup.