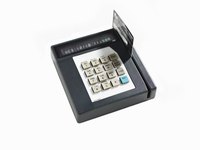 Merchant credit card processors--or processing companies--are designed to enhance businesses by allowing them to accept all forms of payment, from anywhere in the world, at all times of the day. These payment formats typically include all major debit and credit cards, as well as traditional and electronic or online checks. Credit card processing companies also provide clients with protection from fraud and identity theft by encrypting all financial data that is included in business transactions.
goEmerchant Merchant Accounts
According to toptenreviews.com, goEmerchant is a competitively priced online merchant credit card processor, which provides quick and secure services. Some features include its strong fraud protection and multiple options for gateways, or secure sites where you can send and receive payments, such as PayPal.
Flagship Merchant Services
In addition to providing businesses with online merchant credit card processing, Flagship also makes physical processing machines, such as account machines for restaurants, wireless credit card terminals, and devices for other sales transactions. According to ratecreditcardprocessing.com, Flagship offers a free credit card processing rate quote, and charges no account application fees. Also, if your business does not make/receive many transactions, there are special low-volume rates available.
Merchant Warehouse
Like Flagship Merchant Services, Merchant Warehouse also extends beyond the online realm and makes physical credit card processing machines and terminals. According to toptenreviews.com, Merchant Warehouse has a strong history of excellent customer service, and is one of the better-known names in the industry. Merchant Warehouse provides a variety of different startup options for businesses, all at relatively inexpensive prices.
The Transaction Group
According to the-merchant-account-advisor.com, the Transaction Group can ensure that your business will be able to accept all major credit and debit cards, as well as various check formats. Like the above-mentioned companies, the Transaction Group also provides physical machinery as well as online services. The Transaction Group does not require long-term contractual commitments, and charges no setup, application, or cancellation fees.
Chase Paymentech
Chase Paymentech--according to toptenreviews.com--is one of the best credit card processors available. Chase Paymentech will allow your business to accept all major forms of payment, including PayPal transactions and Bill Me Later options. Chase Paymentech customer support is around the clock, and every client is provided with a direct line to an account representative. The company also provides processing hardware in conjunction with Hypercom, VeriFone, Ingenico, and Exadigm.