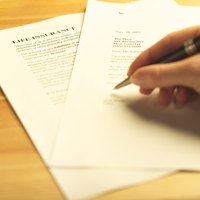 Multinational companies do business all over the world. You can find their brands in places as diverse as California and Karachi, India. There are several life insurance companies which do business not only in the United States but also in Asia, Europe and Latin America. If you plan on working or traveling abroad, you may need to know which companies offer coverage and service outside your own country.
Zurich International Life
Zurich International offers both business and personal financial services in Asia, Europe and the Middle East. Through Zurich International, individuals can get not only life insurance but also car and home insurance, as well as help with retirement planning and savings. Though not all products are offered in all regions, Zurich International can help customers in Hong Kong, United Arab Emirates, Japan, Taiwan, Qatar, Austria, Romania and many more countries.
Life Insurance Corporation of India
The Life Insurance Corporation of India (LIC) is completely owned by the government of India. However, LIC has expanded its operations outside of India, to do business in, as of 2010, twelve other countries. Most of LIC's international operations focus on and do business in the Gulf, particularly the United Arab Emirates, but LIC also has formed joint ventures with insurance companies in Nepal and Sri Lanka.
American Life Insurance Company (Alico)
Alico actually began in Shanghai, China in 1912 and then moved to Delaware in the United States. It currently operates in fifty countries and is one of the largest insurance companies in the world. Alico was the first foreign-owned life insurance company allowed to sell in Japan. The company later expanded into Latin America, both Eastern and Western Europe and the Middle East. Alico offers not only life insurance but health insurance, travel insurance, accident insurance, savings plans and retirement planning.
ACE Group
The ACE Group offers life insurance as well as casualty, personal accident, supplemental health and property insurance. The group operates in more than fifty countries, including Brazil, South Korea, Mexico, Hungary, Sweden, Thailand, Turkey, Russia and Vietnam. ACE Life also offers services in the Middle East and Africa.
New York Life Insurance
New York Life first began doing business internationally in 1870. By 1905, the company had a presence in 83 countries, although this growth was stunted by World War I. Today, New York Life works in China, India, Argentina, Taiwan, Thailand and South Korea, in addition to the United States.