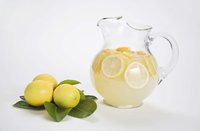 Crystal Light is a powdered drink mix that is available in many fruit and tea flavors. Crystal Light is low-calorie and sugar-free. This makes it a popular drink for people who are trying to lose weight or ensure that they get enough water throughout the day. Like anything you eat or drink, you should know the ingredients in Crystal Light before adding it to your diet.
Sweeteners
Since Crystal Light is sugar free, another sweetener is necessary. The main sweetener in Crystal Light is aspartame. Aspartame was the subject of several studies to determine if its consumption could raise a person's risk of developing cancer. The United States National Cancer Institute reports that a 2006 study showed no increase in brain cancer, lymphoma, or leukemia among the study subjects who used aspartame.
Other sweeteners that may be present in Crystal Light include corn syrup solids, maltodextrin and acesulfame potassium. Corn syrup solids are concentrated amounts of corn syrup that contain 10 percent or less water. Maltodextrin is a starch sweetener made from rice, corn or potato. Acesulfame potassium is an artificial sweetener that is much stronger than sugar and often paired with aspartame.
Flavoring
Citric acid is an ingredient in many flavors of Crystal Light. This ingredient adds a tart flavor and also is a preservative to help Crystal Light have a longer shelf life.
Natural and artificial flavors give Crystal Light certain tastes. However, the amount of these ingredients is generally less than 2 percent of the total mixture. Some varieties of Crystal Light contain juice solids as well.
Preservatives
To keep Crystal Light powder fresh, many flavors contain BHA (butylated hydroxyanisole). Sodium benzoate also helps maintain the product's freshness. Magnesium oxide is another common preservative in Crystal Light. This ingredient keeps the powder from caking.
Health Formulas
Crystal Light varieties with antioxidant ingredients include vitamins C and E. Beta carotene and various forms of potassium are also ingredients in Crystal Light Antioxidant drinks.
Crystal Light Skin Essentials contain ingredients to keep your skin healthy. These flavors include some of the same ingredients that you will find in the Antioxidant formulas as well as marigold flower extract.
Crystal Light Calcium contains enough calcium to equal 10 percent of your daily recommended value. This percentage assumes a 2,000-calorie daily diet.
Crystal Light LiveActive contains inulin, a fiber for digestive health. Assuming a 2,000-calorie daily diet, the LiveActive formula will give you 12 percent of your daily fiber.
Other Ingredients
Crystal Light tea varieties contain instant tea. Depending on the variety, the tea may or may not contain caffeine. Some varieties of Crystal Light contain artificial coloring. These include red 40, yellow 5 and blue 1.