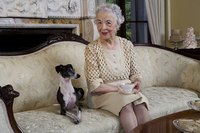 As your pup ages, he becomes more prone to developing several health issues. These issues can impair his range of movement, cause blindness or even impair his cognitive abilities. To rule out any serious health conditions, bring Fido to the vet for a checkup if he seems lethargic, stops eating or appears forgetful. Most issues can be treated when you catch them early on, which is why prompt vet care is so important.
Degenerative Joint Disease
Degenerative joint disease is a progressive disease that causes chronic inflammation of the joints. It's most common in older dogs, according to petMD. If your pup seems less active than usual or walks with a stiff gait, he may have degenerative joint disease. While there is no cure for this disease, surgery can sometimes slow its progression. Physical therapy, massage, anti-inflammatory drugs and heat can all help make your pooch comfortable and increase his range of motion with degenerative joint disease.
Periodontal Disease
Periodontal disease is caused by the buildup of plaque and tartar below your dog's gumline, which leads to inflammation of the gums, bad breath and tooth loss over time. Without regular dental cleanings as recommended by your vet, your pup can develop this painful condition which can lead to a loss of appetite and even organ damage.
Eye Problems
Glaucoma can cause permanent vision loss if not treated immediately. This condition is caused by a buildup of fluid in the eye, which results in increased eye pressure. High pressure within the eye from excess fluid damages the retina and optic nerve over time. Signs of glaucoma include cloudiness within the eye, redness of the eye or a dilated pupil. Cloudiness of the eyes can indicate cataracts, another disease of older pets, which is treated with surgery. Both surgery and medications can be used to treat glaucoma.
Hypothyroidism Regulates Metabolism
Hypothyroidism is most commonly found in middle-age dogs. It occurs when the thyroid glands stop producing enough hormones to regulate your pup's metabolism. This leads to weight gain, hair loss, lethargy and even anemia. Your vet can check for hypothyroidism with a blood test and prescribe a synthetic hormone for your pooch to take for the rest of his life.
Diabetes Management
When your pup's pancreas stops producing enough of the hormone insulin, his blood glucose levels become elevated, resulting in diabetes. If your pooch seems excessively hungry or thirsty, urinates frequently or experiences weight loss even with a normal appetite, he might have diabetes. Your vet can diagnose your pup with diabetes and prescribe insulin injections for your dog. He also may recommend a weight-loss regimen and dietary changes for your dog to keep the condition under control.
Canine Cognitive Dysfunction
As they age, dogs can develop a form of canine cognitive dysfunction similar to Alzheimer's disease in people. If your pup fails to recognize you or other family members, forgets his housetraining, ignores you when he's called or wanders aimlessly in circles, he could be suffering from cognitive dysfunction. While there isn't a known cause or test for cognitive dysfunction in dogs, your vet might prescribe a medication like selegiline for your pooch if he determines he might have canine cognitive dysfunction.
Cancer Symptoms
Cancer accounts for about half of the deaths of dogs over 10 years old, warns the National Canine Cancer Foundation. Cancerous skin tumors are common in older dogs. If you notice any lumps or bumps on your pup's skin, get him to the vet right away. Symptoms of cancer vary based on the type of cancer your pooch is suffering from. Treatments for cancer include surgery, radiation and chemotherapy for dogs.