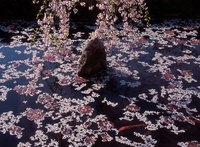 Japanese gardens provide visitors with a tranquil environment where landscaping features, such as bridges, paths and ponds, combine with trees, shrubs and flowers to create a meditative setting. Common in Buddhist monasteries around the world, the Japanese garden began as the garden of the Japanese ruling class. The traditional plants and landscape features are often metaphors for religious references, such as purification, spirits and immortality. A Japanese garden includes some plants from each of the plant categories listed below. A large garden might include examples of all the categories.
Trees and Shrubs
Japanese garden trees include evergreen and deciduous varieties. The Japanese Yew, the Japanese white pine and the Japanese red pine are common evergreens that provide foliage and interesting bark patterns year-round. The flowering cherry and the Japanese plum tree are frequently used in Japanese gardens to provide spring color with early blossoms and beautiful leaves through summer and early fall.
Evergreen and flowering shrubs add seasonal beauty to the Japanese garden and make good planting companions near larger trees. Winter Daphne, many azaleas varieties and hydrangea are good choices. Winter Daphne is a particularly nice addition with its evergreen foliage and fragrant blossoms.
Grasses and Bamboos
Low-growing grasses that tolerate moist or dry soil add color and height variation to the Japanese garden environment. Japanese Pampas grass is an elegant, larger grass that tolerates dry and moist soil. Many grasses and bamboos do particularly well in the moist soil near Japanese garden ponds. Japanese white radish and Herbaceous Peonies are good choices at pond's edge. Shibataea kumasaca and Pleioblastus pygmaeus are two reliable Japanese bamboos that also do well in moist soil near a pond.
Moss
Moss is used in the Japanese garden to soften and beautify the areas under trees and shrubs. Moss grows particularly well under evergreen varieties since mosses prefer a moist shady growing environment. Mosses are also used to add color and texture to many of the large rock landscaping features in Japanese gardens. Mosses that do well in your local climate should be used since others might not thrive. Contact a local nursery for information about moss varieties that will do well in your area.
Aquatic plants
When a Japanese garden includes a pond, it does not seem like a true Japanese garden without the most commonly used aquatic plant, the Lotus. The Lotus plant is edible with large pink flowers that only last several days. The Lotus plant is also significant in the Buddhist religion because it signifies rebirth after death in paradise.