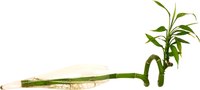 Chinese inspired centerpieces are an excellent way to bring a touch of Asia to a home, party or wedding. Color, natural elements and textures are all important aspects of Chinese centerpieces. Chinese centerpieces don't have to be expensive, particularly since elegance and simplicity are exemplified in both traditional and contemporary Chinese decor.
Nature
Adding a touch of nature is one of the best ways to create inexpensive Chinese centerpieces.
Small bamboo plants in a glass vase filled with water, small stones or glass beads make an easy and inexpensive centerpiece. Bamboo plants will last a long time with proper care which includes keeping about an inch of water in the vase, exposing the plant to indirect sunlight, and occasionally adding a small amount of African Violet food to the water.
Small orchid plants also make excellent inexpensive Chinese centerpieces. Orchids require a bit of a green thumb in order to thrive, but the main things to remember are to water orchids with filtered water, expose them to moderate amounts of sunlight and keep in a warm, humid room.
Those who do not have a green thumb or do not wish to care for a living plant can still add a touch of nature to their table by simply adding small smooth stones to a clear glass vase. The vase should be short and wide rather than tall and slender to avoid obstructing the view of others at the table.
Paper
Paper can be used to create inexpensive Chinese centerpieces in the following ways:
Glue two Chinese paper fans together at the base. Cover a rectangular piece of Styrofoam with origami paper that matches or complements the colors in the fan. Cut a slit into the foam and insert the base of the fans that have been glued together into the foam.
Fill a large, unused paper Chinese take-out box with fortune cookies or other treats to be distributed later and tie closed with a colorful ribbon. After the meal, open the box and distribute one fortune cookie or other treat to each guest.
Place a battery-powered flameless candle inside a paper Chinese lantern and set the "lit" lantern in the center of the table.
Chopsticks
Chopsticks in and of themselves can add a wonderfully decorative touch to a Chinese-inspired table. Simply place the chopsticks pointed end down in a short vase, exposing the decorated ends of the chopsticks. If possible, use a vase that is Oriental in design that matches the tablecloth, place mats or dishes. The chopsticks should also match the vase. For instance, If the vase is decorated with white and pink cherry blossoms with a tinge of red, select either red or pink chopsticks.
The vase should be filled with more sets of chopsticks than the number of guests. For instance, if eight guests are expected, put 12 or more sets of chopsticks in the vase so that the vase still has some sets of chopsticks in it after each guest has removed a set of chopsticks for personal use.