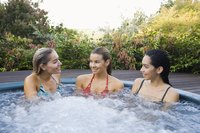 If you plan on traveling in the continental United States, you may consider visiting the state of Texas. The second largest state in the union, there is a lot to see and do in Texas. You can enjoy unobstructed scenery on the northern plains, visit the historic Alamo and the River Walk in San Antonio or sunbathe and swim in the Gulf of Mexico in Galveston. An option to consider for your accommodations while visiting Texas is a cabin. Cabins offer a comfortable and private environment. If pampering is what you desire, you may want to consider a cabin with a hot tub, and there are several to choose from in Texas.
The Hideaway Country Log Cabins
The cabins offer vacationer's a quiet abode in the woods of North Central Texas. Each cabin boasts a private outdoor hot tub, where you and your traveling companion can enjoy relaxation and nature at the same time. Dallas-Fort Worth is a close drive from these cabins.
1022 Private Road 1250 Bluff Dale, Texas 76433 (254)823-6606
Cabins at Smith Creek
If your destination is San Antonio and you want private and comfortable accommodations, the Cabins at Smith Creek are an option. Located in Wimberley, these cabins are a short drive to San Antonio. These cabins offer a quiet retreat for you and your partner. You can be sure to enjoy relaxing and romantic nights in the hot tub just outside your door.
2510 F.M. 3237
Wimberley, Texas 78676 (512) 847-7460
Aladdin's Retreat
Also located in Wimberley is Aladdin's Retreat. This cabin can accommodate up to 6 guests, has two bedrooms and a full kitchen. There is also a hot tub to relax your muscles after a long day of sightseeing, or you may just choose to stay at this cabin for your entire vacation for ultimate relaxation.
13820 Ranch Road 12 Wimberley, TX 78676 (800)460-3909
Sweet Creek Farms
Situated in Canton, Sweet Creek Farms has two modern cabins for you to choose from. There is a swimming pool and grill for you to enjoy, as well as a private hot tub outside of each cabin. Dallas is just a 1-1/2 hour drive away, so you can enjoy the many things the city has to offer.
1938 VZCR 2309 Canton, TX 75103
(903)479-4052
The Hideaway Ranch and Retreat
Located in Bluff Dale, this vacation destination boasts 10 private cabins. Each cabin has different decor, but all offer luxurious accommodations, including private hot tubs. While staying here, plan a day-trip to Dallas, Austin or Houston.
1022 Private Road 1250 Bluff Dale, TX 76433 (866)609-HIDE