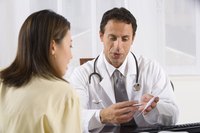 A UTI, or otherwise known as a urinary tract infection, can be a very uncomfortable problem to have to deal with. If you have all the signs and symptoms of a UTI, your physician will most likely order a culture to be performed to confirm. Upon confirmation, he or she will often prescribe an antibiotic. If your culture shows a negative result, but you still have the signs and symptoms, your doctor may prescribe medications or order another test.
Symptoms of a UTI
The signs and symptoms of a urinary tract infection are very recognizable, especially to those who have had them in the past. While most common in adult women, men and children can contract a UTI as well. The most common symptom is pain or burning during urination. Someone with a UTI may also feel the urge to urinate constantly, with little to no actual urination. Other signs or symptoms of a UTI may include cloudy or bloody urine, a fever or chills and lower back/abdominal pain.
Upper urinary tract infections, a more severe case, can also include nausea, vomiting and high fever accompanied by shaking chills.
In any case, a UTI will require special antibiotics to rid your body of the infection and can take up to 10 days to fight off.
Reasons for Negative Culture on UTI
Those with all the symptoms of a UTI but a negative culture result may feel confused and worried. Chances are your doctor will still prescribe antibiotics, and may or may not order another test.
It is possible that the test was faulty, or was somehow contaminated. It is also possible a poor specimen was collected. For example, the first few ounces of urine is often contaminated, and doctors will ask you to urinate a few ounces before collecting your sample. The cap on the collection cup also needs to be sealed completely and securely to avoid contamination.
A catheter can also be used to obtain a sample to test. This is often used in hospitalized patients or children and babies where collecting of samples is often difficult.
Preventing a UTI
Those who have experienced a UTI will want to know how to prevent them in the future. There are a few steps one can take in order to prevent an infection from recurring.
Drink plenty of water to continually flush your system. Cranberry juice has antioxidants known to be beneficial to your urinary tract system. Drink a glass daily.
Don't hold it if you feel the need to urinate. Those who "hold it" are actually allowing excess bacteria to grow.
Taking showers instead of baths will help prevent the growth of harmful bacteria.
Cleansing your genital area before and after sexual intercourse will also help prevent UTI infections.