One of the easiest ways to add beautiful flowers and plants to any yard, is to purchase flower pots and use them to landscape your yard. Styles, colors, sizes, and materials are almost limitless with outdoor flower pots.
If you have a patio, you may want to start by adding pots around your patio door or around the outside edge of your deck. If you have garden areas, you can simply place flower pots right on the ground and mix them in with your existing plants and flowers. You can even hang potted plants from the bottom side of your deck.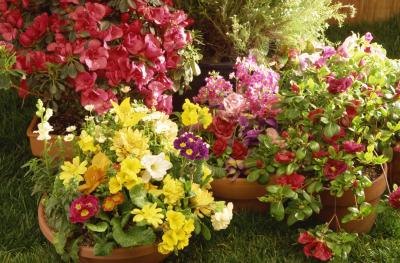 (Jupiterimages/Comstock/Getty Images)
The easiest way to begin with flower pots is to add them to an outside patio area. The scenery and fragrant scents from flower pots can be quite enjoyable while you sit out on your patio under the sunshine.
Depending on the look you are after, flower pots come in a variety of materials. Examples include: terracotta, clay, concrete, plastic or wood. Some flower pots are one level, while others can be three or four levels high. While most flower pots are simple in design, plenty of elegant or designer flower pots do exist, including hand painted models.
Thinkstock/Comstock/Getty Images
If you already have an existing flower bed or garden area, then decorative flower pots or planters can really add a beautiful element to your garden area. Wooden containers make great natural choices that blend well with the outdoor look and feel of your garden. Be mindful in wetter climates to purchase wood planters made out of cedar, pressure treated lumber or other weather resistant materials.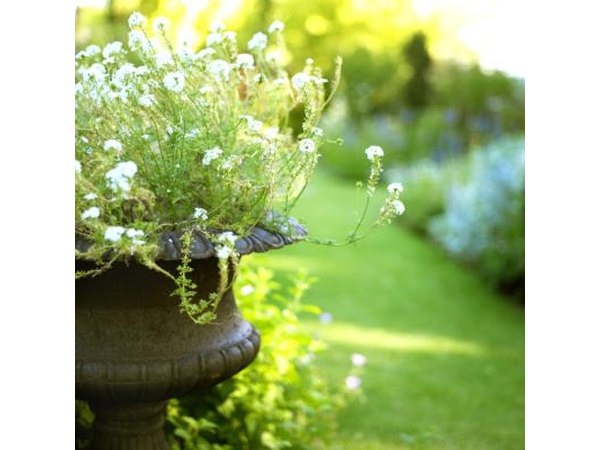 George Doyle/Stockbyte/Getty Images
Adding hanging baskets to your patio area is easy to do. Common choices for materials include: wooden baskets, wire baskets with moss, and an endless array of decorative hanging pots. It's a good idea not to hang baskets too near your patio door or you may find yourself running into them. Also make certain that you can reach the hanging baskets in order to water and fertilize your plants.
Hanging baskets are inexpensive. For example a 10-inch hanging basket, made from plastic, costs about $19.99. Drain holes are already included in the design.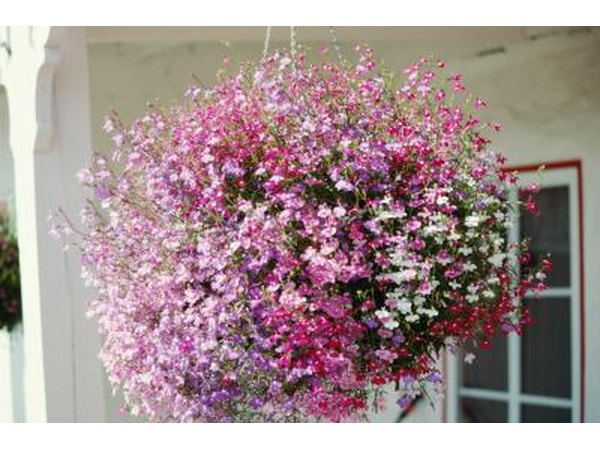 Photos.com/Photos.com/Getty Images
One of the most beautiful flower pot ideas is to mount pots directly to the exterior of your home. You can hang your flower pots on each side of the front door, on both sides of a window, or anywhere else you like.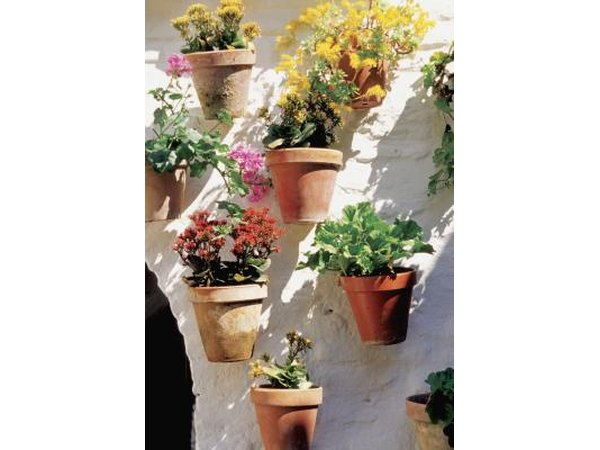 Medioimages/Photodisc/Photodisc/Getty Images
Promoted By Zergnet