Omega-3 fats are essential polyunsaturated fats that may help lower your heart disease risk. While some nuts and seeds do provide omega-3 fats, many types are not significant sources of these healthy fats. Additionally, the type of omega-3 fats found in nuts and seeds may not be very well absorbed and used by the body.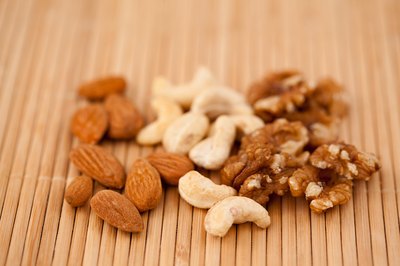 Walnuts and Omega-3 Fats
Walnuts are the best plant-based source of the omega-3 fat alpha-linolenic acid, or ALA, according to a review article published in Nutrients in July 2010. Each ounce of walnuts has 2.5 grams of ALA. This means just one ounce is enough to meet the recommended intake of ALA of 1.3 to 2.7 grams per day if you follow a 2,000-calorie diet. Walnuts don't contain the omega-3 fats eicosapentaenoic acid, or EPA, and docosahexaenoic acid, or DHA, which are the types your body uses best.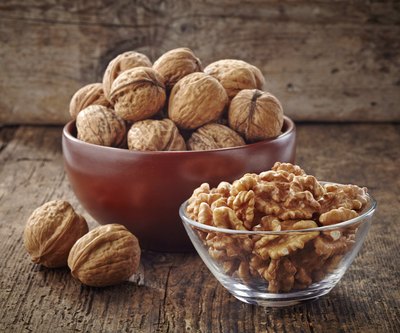 Other Nuts and Seeds
Flaxseeds are another good source of ALA, providing 2.5 grams per tablespoon. Pecans have a small amount of ALA, with about 0.3 gram per ounce. Pumpkin seeds also contain trace amounts of ALA. However, other nuts and seeds, including sunflower seeds, peanuts, almonds, pistachios, cashews, pine nuts and hazelnuts, don't contain any significant amount of omega-3 fats.
Bioavailability Considerations
While walnuts contain a lot of ALA, your body may not be able to use it well. To use ALA, your body needs to convert it into DHA or EPA, and this conversion isn't very efficient. A review article published in Critical Reviews in Food Science and Nutrition in 2014 found that the ALA from nuts isn't converted to DHA. Although some types of seaweed and algae provide small amounts of DHA, vegetarians should speak to their doctors about the best way to increase DHA intake. This may include taking DHA supplements, recommends registered dietitian Jack Norris.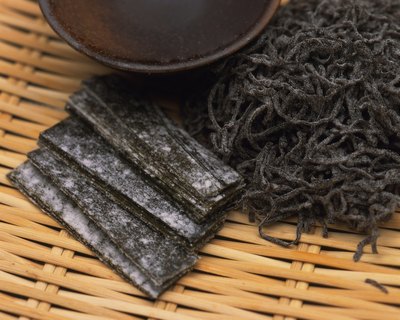 Calorie Considerations
Walnuts are high in calories, with each ounce containing about 183. Another vegetarian option for increasing your ALA is flaxseed oil, with 1 tablespoon providing 124 calories and 7.2 grams of ALA, which is about three times as much as that found in walnuts. If you're an omnivore, opt for a 3-ounce serving of Atlantic salmon. Although it has 175 calories per serving, it provides 1,825 milligrams of EPA and DHA. This is more than three times the recommended intake of 500 milligrams per day for these omega-3 fats, which are better utilized by your body than ALA.