When you are looking to lose weight or tone a less than tight body, you want results that make you feel good about yourself. That's why you shouldn't waste your time with ineffective gym machines. Choose the 10 most effective exercise machines, and cut your time at the gym in half with better results.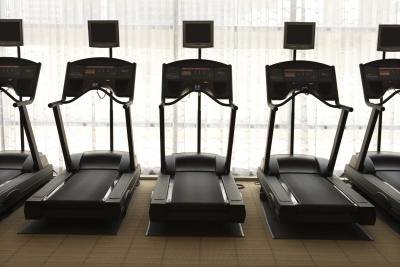 (Jupiterimages/Stockbyte/Getty Images)
The treadmill is one of the first pieces of equipment you think of when you hear "exercise machines," but it is also one of the most effective. A 150 lb. individual can burn 100 calories during a 30-minute moderately challenging workout. You can customize and ramp up your workout with adjustments to the speed and incline on the treadmill, making it versatile.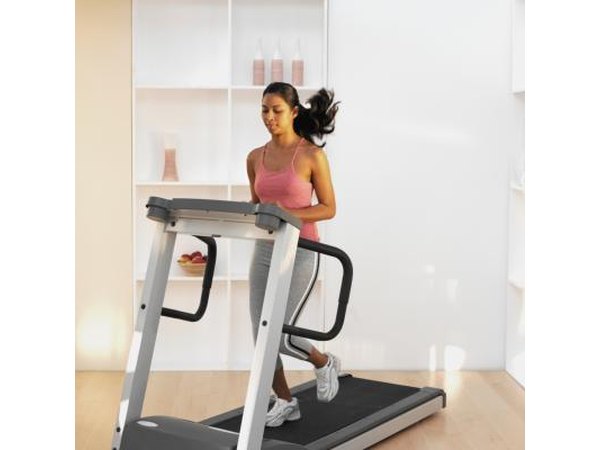 Stockbyte/Stockbyte/Getty Images
The elliptical combines the leg motion of a traditional treadmill with an arm motion. Because it works both parts of your body simultaneously, a 150 lb. individual can blast up to 297 calories during a 30-minute workout. Ellipticals are also kind to your joints, so if you have joint problems, you can workout longer on an elliptical without any worries.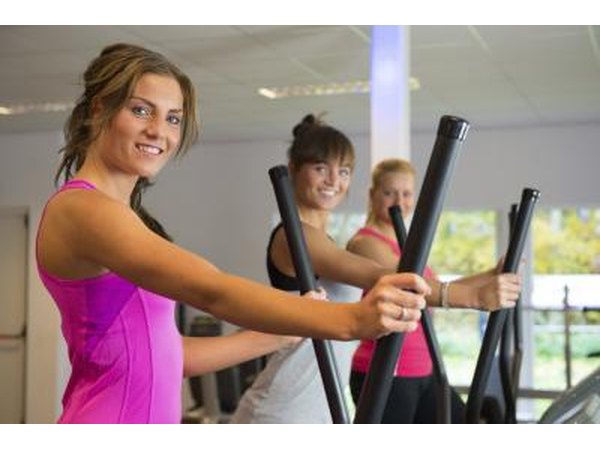 Ivonne Wierink-vanWetten/iStock/Getty Images
While it may seem like the people on the recumbent bikes are laying back with a relaxing workout during their favorite TV show, recumbent biking actually packs a punch when it comes to effective calorie burning. The recumbent bike focuses all of the attention on your legs, without the help of gravity to cycle, making it a good workout for some of the harder to reach areas like calves and thighs.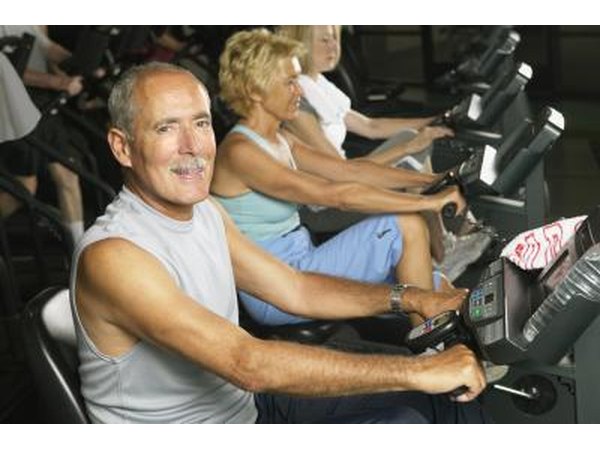 Barry Austin/Digital Vision/Getty Images
If you head to a spinning class at your local gym, be prepared to sweat. A spinning instructor will push you through sets and changing speed and tension to make sure you get a fat-burning workout. Don't forget to bring a towel.
kzenon/iStock/Getty Images
A trap table is used in traditional Pilates. Also known as a reformer, this table has multiple positions that you can use to stretch and tone your body. While it typically burns around 100 calories in 30 minutes, you get more than just a cardiovascular workout; you sculpt those hard to reach areas like the abs, inner thighs and rear, so you truly multitask with a reformer work out.
Eliza Snow/iStock/Getty Images
You may think the leg press is only meant for hardcore body builders. However, those of all fitness levels can benefit from a leg press, especially those who need to strengthen knees and joints---which means anyone who is physically active and wants to stay that way. You can strengthen and protect with one machine.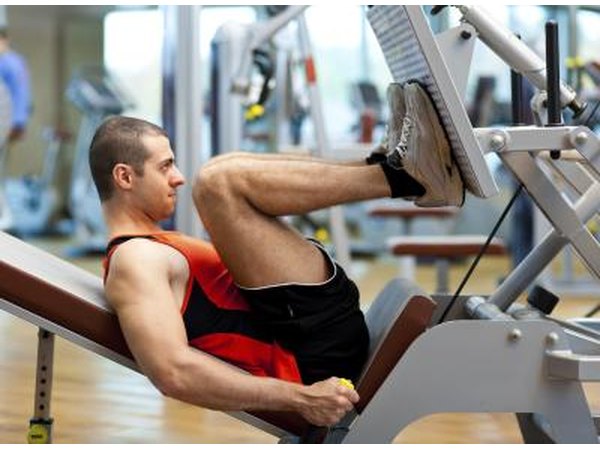 Minerva Studio/iStock/Getty Images
While burning less than the actual rowing of a boat, a stationary rower can give you an excellent work out. Beside burning nearly 200 calories in a 30-minute workout for a 150 lb. person, you also strengthen your back, legs and and arms with the multipurpose rowing action.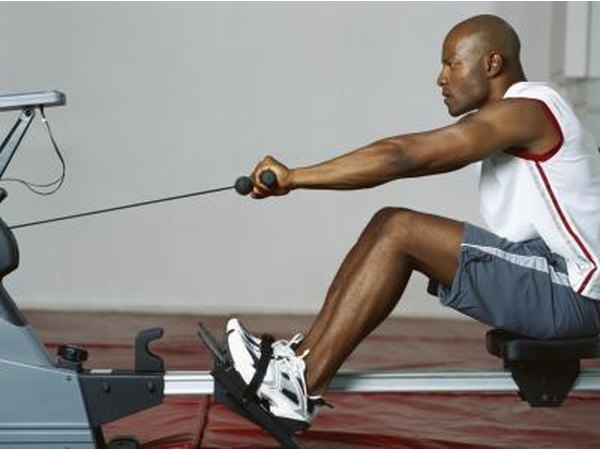 Stockbyte/Stockbyte/Getty Images
Even if you have plenty of stairs in your house, try out a stair climber at the gym. You'll enjoy the benefits---tightened thighs, behind and calves---that you would get from countless squats, lunges and leg lifts without a stair machine.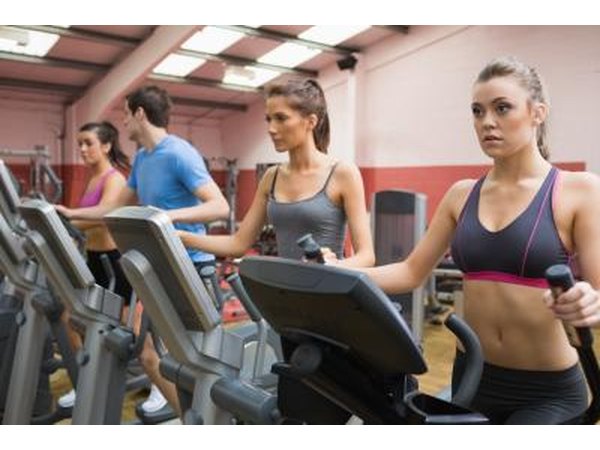 Wavebreakmedia Ltd/Wavebreak Media/Getty Images
If you are the kind of person who has a short attention span when it comes to exercise machines that require too many repetitive motions, try a mini-trampoline. You'll be having so much fun that you won't even notice the 120 calories that you burn while bouncing. It's also a good choice for those who want the benefits of a cardio workout without the painful impact on the hips and knees. The trampoline cushions while you still stay active and fit.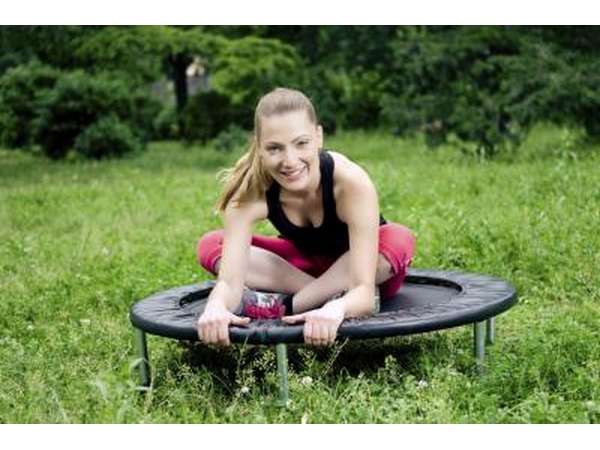 viki2win/iStock/Getty Images
While truly the simplest exercise "machine" that you can find, a balance ball has so many applications that it is the most versatile piece of gym equipment. Use it for doing crunches, sit on it during the day to improve posture, or use to stabilize yourself as you do advanced exercises. Economical, it is one exercise machine that you can't do without.
Chris Clinton/Photodisc/Getty Images
Promoted By Zergnet